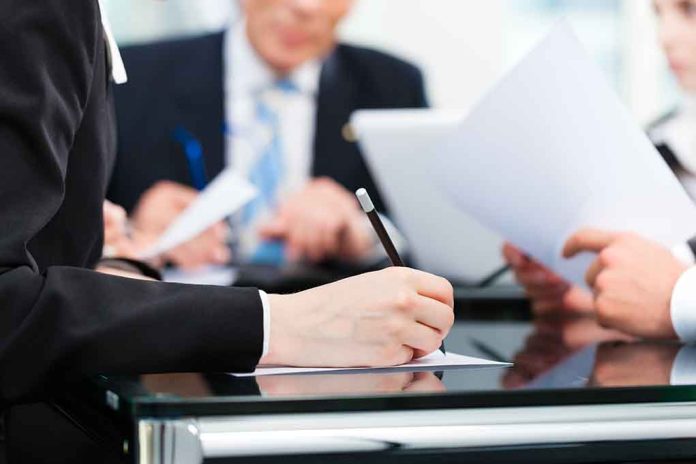 (RepublicanPress.org) – In August 2018, The Wall Street Journal reported that Donald Trump's former attorney, Michael Cohen, told a judge the former president instructed him to pay adult film star Stormy Daniels $130,000 to keep quiet about their alleged affair. Cohen said the hush money transaction happened just before the 2016 presidential election. Trump's former attorney pleaded guilty to multiple charges, one of which involved campaign finance violations. Currently, a New York grand jury is in the process of deciding whether to recommend charges against the former president for the payoff.
On March 15, the WSJ reported that Daniels met with prosecutors in Manhattan. Her attorney, Clark Brewster, confirmed on social media that his client agreed to be a witness and would answer any further questions for the prosecutor or the court. Brewster said Daniels responded to the state's inquiries but didn't give specific details.
At the request of the Manhattan DA's office Stormy Daniels and I met with prosecutors today. Stormy responded to questions and has agreed to make herself available as a witness, or for further inquiry if needed. #teamstormy pic.twitter.com/BlhlZld6qG

— clark brewster (@cbrew1) March 15, 2023
Trump's lawyer, Joe Tacopina, stated his client claims he did nothing wrong and didn't even have an affair with the star. He alleged Daniels and Cohen were just trying to grab the spotlight. Tacopina said the pair's "motives" were obvious because they apparently speak to the press a lot about the controversy.
The news source reported some witnesses who have testified in front of the grand jury included former tabloid chief executive David Pecker, Trump Organization executive Jeffrey McConney, one of Pecker's associates, Daniel's attorney, and Trump's former personal lawyer Michael Cohen.
Cohen claimed he used his personal line of credit to pay Daniels the hush money payment so her story wouldn't affect Trump's 2016 presidential campaign — with Trump's knowledge and approval. The attorney then claimed he was reimbursed by the Trump Organization, who hid the payments by labeling them as legal expenses. The WSJ reported that falsifying business records is a felony in New York, and the payment to Daniels could constitute an illegal in-kind campaign contribution.
Copyright 2023, RepublicanPress.org