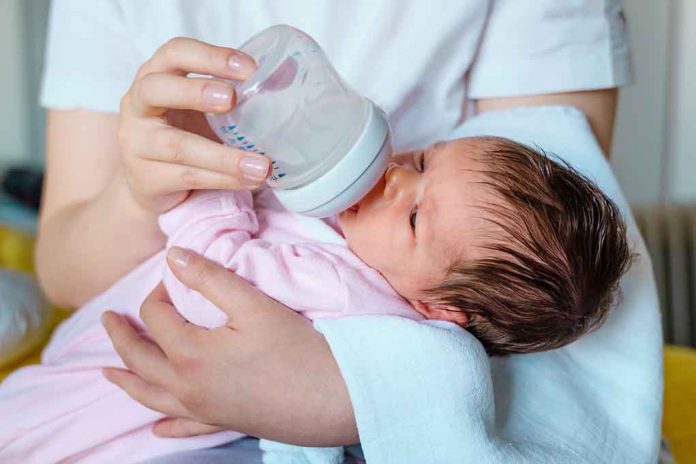 It's Getting WORSE – U.S. Scrambles To Fix Baby Formula Nightmare
(RepublicanPress.org) – After a baby formula manufacturing plant shut down for health violations in the middle of February, parents across the country have been struggling to find enough food to nourish their babies. Since April, the Biden administration has been working to resolve the issue, but new data still says the problem is getting worse. The hardest-hit areas seem to be across the southern part of the country. According to the numbers, 21% of formula was out of stock in stores toward the beginning of May, and that number jumped by 2% for the week ending May 22.
The Government's Actions
An Abbott Nutrition manufacturing plant in Michigan failed an Food and Drug Administration (FDA) inspection in February, prompting an immediate closure and recall of bacteria-laden formula on store shelves. Unfortunately, the closure represented one of only four companies supplying about 90% of the baby formula to American families, a move those in the industry understood would have a harrowing effect on parents' ability to feed their babies.
President Joe Biden was reportedly informed of the issue in April, well after the crisis had already begun. The US leader said his administration "moved as quickly" as possible once he became aware. Other manufacturers increased production as the president launched several initiatives to try and provide a bandaid to the problem until production was back up to speed. On May 18, he invoked the Defense Production Act to bring the necessary ingredients to manufacturers quickly and launched Operation Fly Formula to authorize commercial aircraft to import formula from other countries willing to help.
The State of Formula Today
Even with the efforts of the government and other manufacturers, stores are still having a hard time keeping formula on the shelves for families. That's partially due to the fact that supply chain issues were already affecting the amount of baby formula available in store back in January, so the subsequent closure of the Abbott plant just a month later only made the issue more dire.
On May 22, 78,000 pounds of baby formula arrived in the US via military plane from Europe. Days later, baby formula producer Kendamil pledged to send more to the United States from England. On May 30, the FDA announced a shipment of 1.2 million cans of formula would come in from Bubs Australia to help with the crisis.
Frightening reports from May showed some families are attempting to make their own formula in desperation, a move that could be dangerous to their infants.
As manufacturing plants try to keep up with the demand from parents in the United States, supplemented by help from across the globe, the shortage still seems to be a problem for families. The closed Abbott plant in Michigan reopened on June 4 but will be playing catch-up to meet ongoing baby formula needs once it gets up and running.
Copyright 2022, RepublicanPress.org