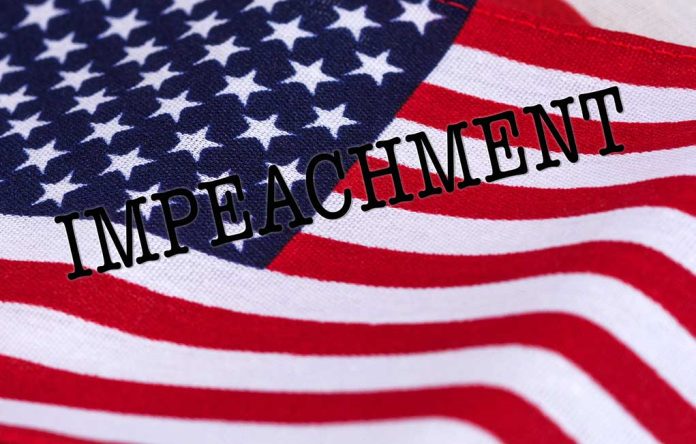 (RepublicanPress.org) – In September 2020, South Dakota's Republican Attorney General Jason Ravnsborg killed a man named Joe Boever in a hit-and-run. He later accepted a plea deal for two misdemeanor traffic violations. In August 2021, Gov. Kristi Noem (R) called on the state House to review the case files related to the tragedy and consider impeaching Ravnsborg. Nearly a year later, the South Dakota House of Representatives voted to impeach the state's embattled top law enforcement official.
On Tuesday, April 12, the South Dakota House voted 36 to 31 to impeach Ravnsborg, making him the first public official in the state's history to face an impeachment trial. Gov. Noem responded to the House vote, tweeting that the chamber did the right thing for South Dakotans and the Boever family.
Today, the House of Representatives did the right thing for the people of South Dakota and for Joe Boever's family.

— Governor Kristi Noem (@govkristinoem) April 12, 2022
State Senators promptly followed up on the vote, setting June 21 as the start date for the chamber's two-day impeachment trial. Conviction requires a two-thirds majority vote, and Ravnsborg could be permanently barred from politics if senators find him guilty. He's currently suspended from office pending the outcome of the Senate trial.
Controversy surrounded the September 2020 incident after details of the investigation went public. Ravnsborg called 911 on the evening of September 12, 2020, to report that he hit an unknown object, hinting that it might have been a deer. Hyde County Sheriff Mike Volek arrived at the scene but could not determine what Ravnsborg hit. The following day, Ravnsborg reportedly found Boever's body on the side of the road.
How do you think the South Dakota Senate should vote? Do you buy Ravnsborg's story that he didn't know what he hit?
Copyright 2022, RepublicanPress.org