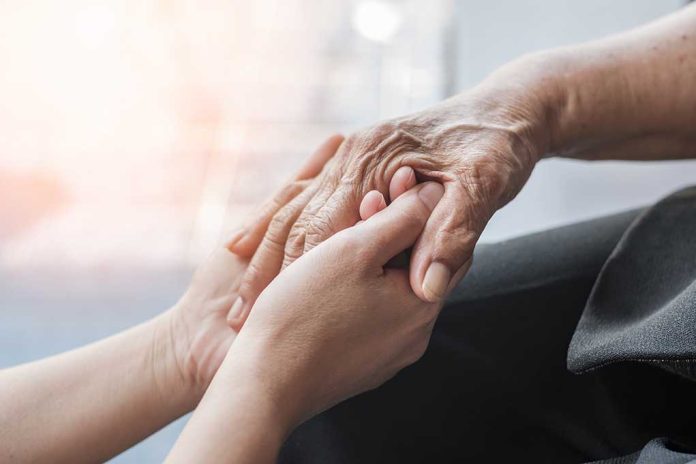 (RepublicanPress.org) – Born Lucile Randon in February 1904, French nun Sister André held the world record as the oldest living person. The 118-year-old was handed the crown in April 2022, when 119-year-old Guinness World Record holder Kane Tanaka from Japan passed away.
On January 17, Toulon Mayor Hubert Falco announced Sister Andre died less than a month before her 119th birthday. He praised the French woman for her kindness and "humanity," saying he was sad to see her go.
𝗗𝗶𝘀𝗽𝗮𝗿𝗶𝘁𝗶𝗼𝗻 𝗱𝗲 𝗻𝗼𝘁𝗿𝗲 𝗗𝗼𝘆𝗲𝗻𝗻𝗲 𝗱𝗲 𝗹'𝗛𝘂𝗺𝗮𝗻𝗶𝘁𝗲́, 𝗦𝗼𝗲𝘂𝗿 𝗔𝗻𝗱𝗿𝗲́

C'est avec une immense tristesse et énormément d'émotions que j'apprends le décès ce soir de notre Doyenne de l'Humanité #SoeurAndré à l'@ehpadscl de #Toulon à 118 ans. pic.twitter.com/R2HWrnyLkB

— Hubert Falco (@hubertfalco) January 17, 2023
The nun had been living at Sainte Catherine Labouré nursing home for the last 12 years, was partially deaf, and was bound to a wheelchair, but Guinness World Records reported that her mind was sharp. One of the sister's caretakers guessed that perhaps her secret to longevity was the glass of wine she enjoyed each day. She apparently liked her sweets as well, naming chocolate as her "guilty pleasure."
Sister André dedicated her long life to helping people. She was a teacher in her youth, jumping to governess and childcare provider during World War II. When the war ended, she spent nearly three decades working at a hospital helping orphaned children and the elderly before dedicating her life to the church by becoming a Catholic nun when she was 40 years old. The French woman certainly lived a full life, witnessing events big and small throughout her time on Earth. According to the New York Post, the sister told BFM television she wasn't afraid to die. In fact, she was ready. Sister André wanted to finally join her brother and grandparents in eternal rest.
While reaching the age of 118 is an impressive feat, according to Guinness World Records, the oldest person to date was Jeanne Louise Calment of France. She was 122 years and 164 days old when she passed away in 1997. Holding the title of longest-living man was Jiroemon Kimura from Japan. He lived to be just over 116 years old. However, there are some reports of people who have lived longer, such as Almihan Seyiti from China, who is believed to have died in 2021 at a stunning 135 years old.
Copyright 2023, RepublicanPress.org