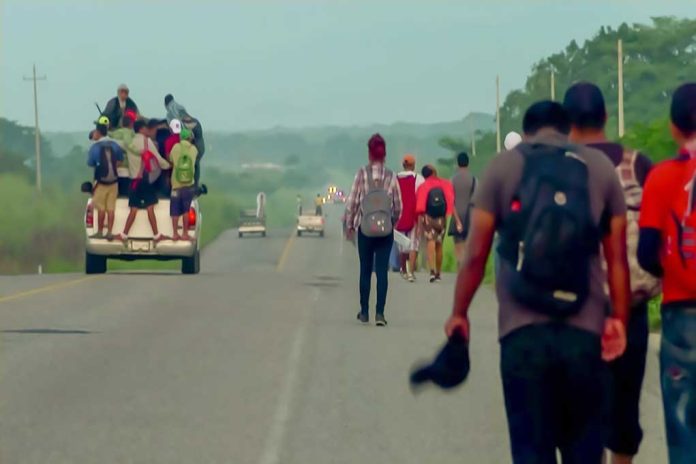 (RepublicanPress.org) – Immigration is a hot-button issue important to politicians and citizens on both sides of the aisle. During the previous administration, former President Donald Trump tried to erect a wall to keep immigrants from illegally entering the country and instituted Title 42, which made it easier for Customs and Border Protection (CBP) to remove migrants from the US. When President Joe Biden assumed the Oval Office, immigration issues didn't seem to get any better. In fact, the number of migrants coming across the border reached historic highs in 2022.
So, what's the solution?
On January 10, Arizona Family reported that a bipartisan group of senators traveled to various places along the southern border in Texas and Arizona to talk to people on the front lines and maybe come up with a solution.
The Recent Push
Senators Kyrsten Sinema (I-AZ) and John Cornyn (R-TX) headed up the trip to Yuma and El Paso. While there, the 10-person group spoke to CBP agents, local police, and the National Guard, in addition to visiting processing centers and organizers who are in charge of helping those seeking asylum. Biden also visited El Paso on his way to Mexico City — his first time touring the border since becoming president.
According to the Wall Street Journal, Sinema has been working on a deal that will pave the way for Dreamers to gain citizenship. For that to happen, she wants certain concessions that would change the asylum system at the border and could require keeping Title 42 in place. She is also working with Senator Thom Tillis (R-NC) to develop a framework for an immigration package that could please both Republicans and Democrats — perhaps in both the Senate and the House. However, at least one person, Cornyn, has already rejected the plan.
Senator Chris Coons (D-DE), however, believes legislators can come to an agreement, although he admitted it would be difficult.
Recent Immigration Changes
On January 5, the White House released a fact sheet about changes to border enforcement. Because the fate of Title 42 is still in the courts, the administration decided to institute a new measure in hopes of reducing the number of people illegally entering the US and securing the border. The president expanded the parole process used for Venezuela to include three other countries. He also tightened up punishments for those who don't follow the rules.
If the Senate can come up with a bipartisan plan to build on the administration's new moves, it could be possible to enact significant immigration changes in the US. However, with Congress split, it's hard to say whether anything coming out of the Senate would pass the House and vice versa.
Copyright 2023, RepublicanPress.org