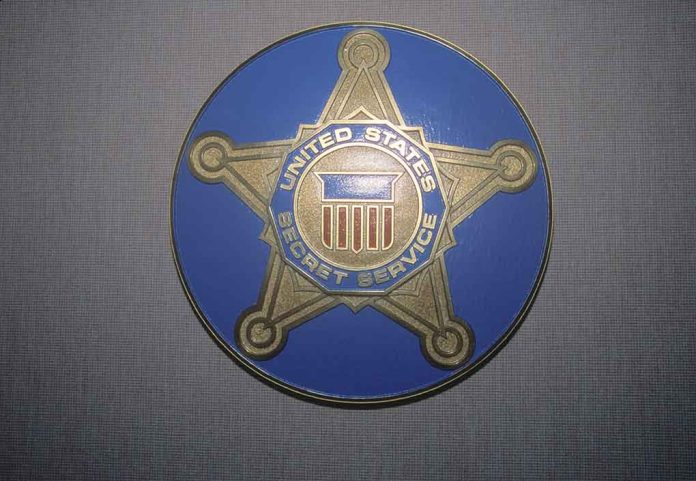 (RepublicanPress.org) – On May 23, the National Park Service announced that authorities arrested 19-year-old Sai Varshith Kandula of Chesterfield, Missouri, for driving a truck into the barricades outside of Lafayette Park. According to the report, Secret Service and the US Park Police responded to the incident at the 1600 block of H Street NW in Washington, DC, the night before. LaFayette Park sits directly in front of the White House.
Soon after the incident, the US Secret Service also released a statement, saying there were no injuries to anyone in the White House or to any members of the Secret Service. The notification stated the road and walkways surrounding the area were closed and would remain that way while authorities investigate. Kandula faces multiple charges, including assault with a dangerous weapon, threatening to kill/kidnap/inflict harm on the president, vice president, or family members, destruction of federal property, trespassing, and reckless operation of a motor vehicle.
BREAKING 🚨 The moment U-Haul truck crashes near White House in Lafayette Square (Video: Chris) pic.twitter.com/Su5R5Q8QjQ

— Insider Paper (@TheInsiderPaper) May 23, 2023
Digital Executive Producer at WUSA9 Troy Pope posted on social media that investigators pulled a Nazi flag out of the U-Haul but provided no further details regarding the paraphernalia at the time. In October 2022, the FBI and the Department of Homeland Security released a report about domestic terrorism. They found that racially or ethnically motivated violent extremism poses the number one threat of domestic violent extremists targeting civilians. President Joe Biden recently spoke to the graduating class of Howard University, where he said although the ideal in America is that everyone is equal, "racism has long torn us apart."
NEW: Investigators pulled what appears to be a Nazi flag out of the U-Haul, but they haven't provided any further details.

Here's what we know: https://t.co/cXt81Ji2NA pic.twitter.com/jBsb1uPJA3

— Troy Pope (@troycpope) May 23, 2023
Melanie Alnwick from Fox 5 reported there was also a black bag in the truck with duct tape and a notebook inside. Another Fox contributor identified Kandula as a recent graduate of Marquette High School in Missouri. Later reports indicated that according to court documents, Kandula expressed admiration for Nazis to the authorities and said he was planning "seize power," adding that he would be willing to kill Biden and harm anyone who stood in his way.
Copyright 2023, RepublicanPress.org