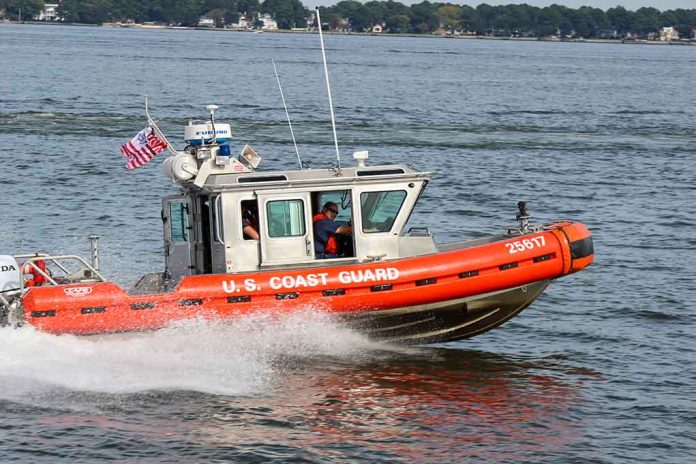 (RepublicanPress.org) – A group of teenagers recently set sail on a two-hour sunset voyage to celebrate their recent graduation on Blackbeard's Revenge, the "only pirate ship in the Bahamas," according to the cruise line company's website. Unfortunately, things went from bad to worse when the US Coastguard and Bahaman authorities called off their search efforts three days after one of the young passengers reportedly jumped overboard and disappeared into the Atlantic waters.
On May 27, the US Coast Guard (USCG) issued a short press release announcing that it called off its search for Cameron Robbins, a recent high school graduate from Baton Rouge, Louisiana. The notice advised that officials from the Royal Bahamas Defense Force (RBDF) contacted personnel from the Guard's District Seven headquarters after the 18-year-old reportedly fell off the Blackbeard's Revenge and disappeared into the Caribbean waters the evening of May 24.
USCG liaison officer Lt. Cmdr. Matthew Spado confirmed that RBDF officials advised him that as of Saturday evening, they had suspended "active search efforts pending [any] further developments." According to him, District Seven crews "deployed multiple search and rescue assets," covering more than 325 square miles.
Lt. Cmdr. Spado also offered the USCG's "sincerest condolences" to Mr. Robbins' family and friends.
The United Cajun Navy assisted with rescue efforts and helped coordinate emergency travel for the Robbins family to the Bahamas. Founder Todd Terrell posted a notice on the organization's Facebook page, noting that although the outcome of the search effort didn't result in Mr. Robbin's safe return, he hoped the group was able to help bring closure to the young man's family in friends by knowing that "everyone did everything possible to locate him."
The Robbins family sent a brief statement to Baton Rouge ABC affiliate WBRZ-TV shortly after officials announced their decision to call off the search efforts. They thanked the Bahamas government, the USCG, the United Cajun Navy, and Rep. Garrett Graves (R-LA) for "everything they have done for us."
Copyright 2023, RepublicanPress.org