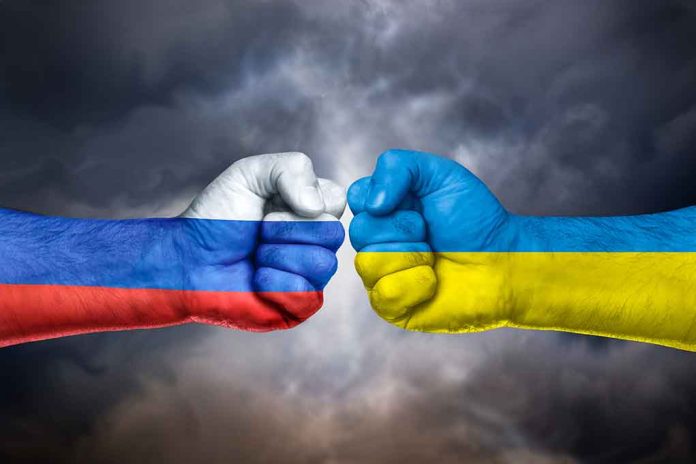 (RepublicanPress.org) – On Monday, January 1, Ukrainian forces launched one of their deadliest attacks against Russian troops since the Ukraine-Russia conflict began in February 2022. By Wednesday, officials were blaming its soldiers' use of cell phones for the strike.
Attack on Makiivka
On January 2, the Russian state-owned news agency TASS reported Russia's Defense Ministry told reporters that Ukrainian forces struck a base in Makiivka, a city located in Ukraine's Donbas region, using a light multiple rocket system. News agencies reported the Ukrainians targeted a base used to mobilize Russian troops.
The Russian Defense Ministry issued a press release detailing the incident on Wednesday. According to the statement, Ukrainian troops fired six rockets using the M142 High Mobility Artillery Rocket System (HIMARS), an American-manufactured weapon.
The press release said Russian air defense operators intercepted two rockets, but four exploded after they impacted a building filled with troops. Reportedly, the strike collapsed portions of the building. Command officers and other personnel provided first aid to the victims of the blasts. Several of the injured service members were evacuated to medical facilities.
The initial news accounts indicated that 63 Russian service members died in the attack, including the regiment's deputy commander, Lt. Col. Bachurin (no first name given). However, subsequent reports raised that figure to 89.
Russian Defense Ministry Assigns Blame for the Strike
The Wall Street Journal reported that the Russian Defense Ministry announced the cause of the strike on its Telegram messenger page on Wednesday. The statement, attributed to Russia's military directorate of its armed forces, said Ukrainian troops tracked troop locations using signals from their cell phones.
Noting the military bans the use of cell phones by service members, the statement advised that officials had already launched an investigation into the incident. Lt. Gen. Gergei Sevryukov, the presumed author of the message, vowed that any "guilty officials will be brought to justice."
The Russian statement came in the wake of criticism from the war's supporters for the decision to concentrate troops in an unsecured building located in the proximity of ammunition and military hardware stockpiles.
Retired US Lt. Gen. Ben Hodges attributed the error to the fact the "Russian military is not a learning organization," according to another WSJ article. He said Russian culture doesn't promote owning one's mistakes, that "to learn, first you have to acknowledge that you were wrong."
Copyright 2023, RepublicanPress.org