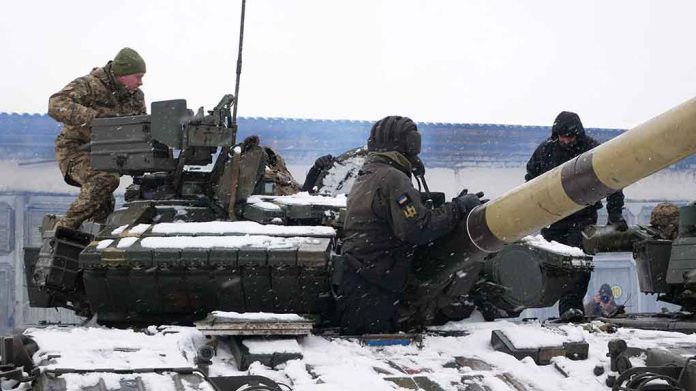 Russia Reportedly Enters Recession Amid War With Ukraine
(RepublicanPress.org) – On February 24, Russian troops invaded Ukraine, starting a war that prompted much of the world to support the sovereign nation. Not only have the United States and others sent money to help the smaller country, but they have supplied their military with weapons and levied heavy sanctions upon the aggressor. After nine months of war, reports say Russia's economy is officially in trouble.
On November 17, Rostat, a statistical agency of the Russian government, released the country's estimated gross domestic product (GDP) numbers for the third quarter. Two consecutive quarters of negative economic activity means the nation is now in a recession.
Russia's economy shrank 4% year-on-year in the third quarter of 2022, data from the Rosstat federal statistics service showed Wednesday, as the consequences of the country's military actions in Ukraine continued to weigh on the economy. https://t.co/ZtWbw2gSem

— NEWSMAX (@NEWSMAX) November 17, 2022
The numbers, which represent the period from July through September, show Russia's economy fell 4% when compared to 2021. Wholesale turnover, water supply, retail, cargo, and manufacturing all fell. The only sectors with growth were construction and agriculture, but those gains weren't enough to net out the declines in the other areas. There was a slightly bigger overall GDP dip of 4.1% for the nation in the second quarter.
CBS News reported the Bank of Russia is blaming the dismal economic numbers on inflation as well as supply and demand issues. The bank's chair, Elvira Nabiullina, recently cautioned the country's legislatures to take these numbers seriously because the economy could get worse, Interfax first reported.
According to The New York Times, before the start of the war, Russia enjoyed a $1.5 trillion economy. While the country initially stood strong against sanctions from the Western world, it seems the economy is finally taking a downturn.
Copyright 2022, RepublicanPress.org