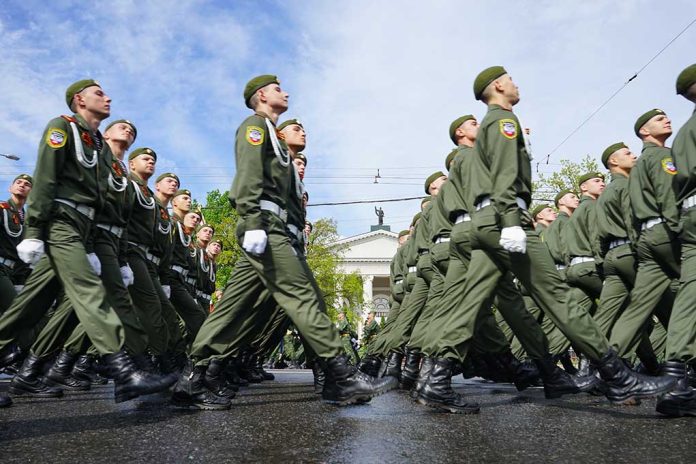 (RepublicanPress.org) – The world waits with bated breath to see whether Russia will invade Ukraine. President Joe Biden's administration officials appear to have embraced the notion of an imminent war. Meanwhile, Russia claims it's reducing troop levels at the Ukrainian border.
On Monday, February 14, Russian officials briefed President Vladimir Putin about ongoing diplomatic efforts to resolve the conflict peacefully and military exercises in the region. Foreign Minister Sergey Lavrov reportedly conveyed his belief that Western officials expressed a willingness to continue negotiations.
As the U.S. braces for a Russian invasion that officials believe could begin within the next 48 hours, Russia says diplomacy is still alive. https://t.co/AKW9y7vT9d

— Axios (@axios) February 15, 2022
Defense Minister Sergey Shoigu advised the Russian president that although military exercises new Ukraine were ongoing, some had already concluded, and others would end shortly. The Russian Defense Ministry followed up the next day, claiming it was withdrawing some troops from the Ukraine border. It also released images of personnel moving military hardware like howitzers and tanks onto railway platforms, reportedly for transport to unspecified locations for "permanent deployment."
However, Ukrainian and European officials expressed skepticism about the claim. For instance, NATO head Jens Stoltenberg told reporters that observers hadn't seen a reduction of Russian troops at the border between Ukraine and Russia. He did concede that Russia's ongoing willingness to sit at the negotiating table was cause for guarded "optimism."
Biden also spoke out about it, saying the reduction on the border has not been confirmed. It looks like time will tell whether the Russians are telling the truth or trying to pull the wool over their adversaries' eyes.
Copyright 2022, RepublicanPress.org