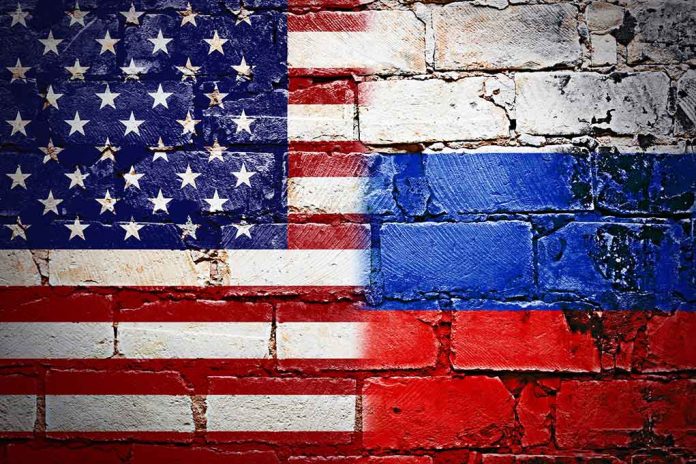 (RepublicanPress.org) – The American defense forces, led by Air Forces Central (9th Air Force), continue their ongoing anti-terrorist missions against ISIS forces in Syria. However, an ongoing series of incidents with Russian military elements has complicated that strategy. US military officials recently accused Russia of damaging a US drone flying over Syrian airspace.
US Air Forces Central Accuses Russia of Damaging US Reaper Drone
On July 25, Air Forces Central Commander Lt. Gen. Alex Grynkewich issued a statement confirming that a Russian-operated fighter jet flew within meters of a US-operated General Atomics MQ-9 Reaper drone flying in Syrian airspace. The aircraft reportedly fired several flares near the unmanned aerial vehicle (UAV) from an overhead position.
Unfortunately, one of those flares struck the aft portion of the drone, causing significant damage to the propeller of its single-shaft engine. However, remote operators of the UAV were able to successfully navigate the Reaper to its home base at an undisclosed location.
Lt. Gen. Grynkewich issued a stern warning to the Russians over the incident, calling on them to immediately halt their "reckless, unprovoked, and unprofessional" actions. He also slammed their "blatant disregard" for flight safety protocols, noting that it "detracts" from America's ongoing mission to "ensure the enduring defeat of ISIS."
The White House Speaks Out
The following day, White House press secretary Karine Jean-Pierre spoke out about the incident during her daily press briefing in response to a question.
Senior national editor for Gray Television, Jon Decker, asked how the US classified the incident and whether any US officials reached out to their Russian counterparts about the gravity of the situation and future rules of engagement.
Jean-Pierre confirmed that the deployment of flares near US drones during "routine" flight missions targeting ISIS "violates established protocols and international norms." However, she deflected on the second portion of the question, noting that the White House was "certainly aware of the initial reports."
Three Times a Charm?
NBC News reported on the incident, noting that the July 25 incident was the third clash between Russian aircraft and US UAVs this month. On July 5, three Russian aircraft engaged in "unsafe and unprofessional behavior" while interacting with three US Reaper drones, according to Grynkewich.
The following day, the general confirmed that several Russian aircraft deployed flares while flying close to US drones. Grynkewich said the incident represented another example of "unsafe actions" by Russian forces operating in Syria. He warned that their errant actions threatened the safety of both Russian and Coalition forces.
Copyright 2023, RepublicanPress.org