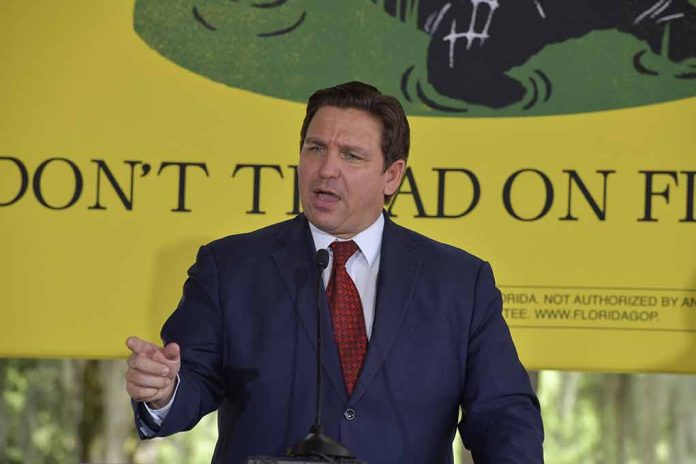 (RepublicanPress.org) – In early June, Florida Governor Ron DeSantis (R) reportedly flew a group of asylum seekers from Texas to California twice within a span of four days. California Governor Gavin Newsom responded to the action by calling the Republican a "small, pathetic man" on Twitter while including a copy of the state's kidnapping statute. It was an escalation of a conflict that has been brewing between the two men for years.
.@RonDeSantis you small, pathetic man.

This isn't Martha's Vineyard.

Kidnapping charges?

Read the following. https://t.co/kvuxe8Fb6F pic.twitter.com/KyE1lJiIYo

— Gavin Newsom (@GavinNewsom) June 5, 2023
A couple of weeks later, Newsom hit DeSantis again, claiming during an interview with Sean Hannity that more people are moving to his state than they are to Florida — per capita.
On June 20, DeSantis attacked Governor Newsom for how he is running the state. According to a new ad, the presidential candidate believes Leftist ideologies are destroying The Golden State, causing residents to flee the state for "greener pastures." DeSantis claimed that during his visit to San Francisco, he saw people going to the bathroom on the street, witnessed drug use firsthand, stating the city has "collapsed" under Newsom.
Leadership matters. Cities like San Francisco that have embraced leftist policies have destroyed the quality of life of their citizens and sparked an exodus of productive people to greener pastures. We need to restore sanity across this country. pic.twitter.com/LF86omZ1e6

— Ron DeSantis (@RonDeSantis) June 20, 2023
During a recent interview with former White House Press Secretary Kayleigh McEnany, the Florida governor said people used to flock to California for its beauty and diversity, but now the state is different. He said The Golden State is not only "hemorrhaging wealth," but it's also "hemorrhaging population."
Director of the University of Florida's Population Program Stefan Rayer said the migration numbers between California and Florida basically net "close to zero" — historically. He said it's difficult to determine exact migration numbers between states, but he agreed with Newsom's per capita statement. However, he admitted the difference in migration numbers between the two was "not statistically significant."
During the interview with McEnany, DeSantis assured her that he could cite statistics proving his claims that people are packing up and moving across the country to join The Sunshine State.
Copyright 2023, RepublicanPress.org