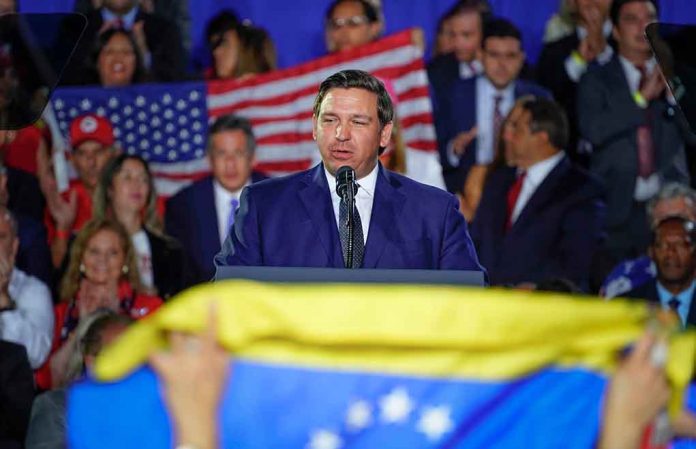 (RepublicanPress.org) – On February 28, Florida Governor Ron DeSantis released his new book, "The Courage to Be Free: Florida's Blueprint for America's Revival." He promptly began a promotion tour that started in Leesburg, Florida. Nearly a week later, he traveled to The Golden State and gave a speech in Simi Valley at the Ronald Reagan Presidential Library.
Great to be at the Ronald Reagan Library!

President Reagan noted freedom is always one generation away from extinction, that it is not passed through the bloodstream.

We in Florida are doing our part in carrying the torch of liberty so we can preserve Florida as a free state. pic.twitter.com/95kNZX06tn

— Ron DeSantis (@RonDeSantisFL) March 6, 2023
Fox News reported the governor had a few words to say about his California counterpart, Governor Gavin Newsom (D). The Florida governor said he heard the state was full of "problems," so he decided to visit and see for himself. DeSantis criticized the leadership in the west coast state for its recent decline in population.
According to Cal Matters, California had the country's fourth-largest population decline between 2020 and 2022, losing over 870,000 people as residents. During his speech, DeSantis said there had been a mass exodus from states run by Democrats because they've been "delivering poor results" for the people. On the other side, he touted an increase in Republican-led states — including Florida.
North American reported Florida was among the top inbound states in 2022, with 55% of people making residence in the state and only 45% outbound. The same source listed California among the largest outbound states, with 63% leaving the state and only 37% making it their home last year. DeSantis said it used to be that people would trek across the country to settle in California, but not anymore. Now, he said those same people are beating a path the other way.
DeSantis isn't the only one full of criticism. Newsom has not been shy about his disdain for how the Florida leader has been running his state. In July 2022, he tweeted a short video slamming DeSantis, claiming he and other Republicans are trying to take away Americans' freedoms.
We're about to celebrate Independence Day — but Freedom is under attack by Republican leaders in states like Florida.

Banning books.
Restricting speech.
Making it harder to vote.
Criminalizing women and doctors.
 
It's time to stand up. Don't let them take your freedom. pic.twitter.com/cFI5UzgZzX

— Gavin Newsom (@GavinNewsom) July 3, 2022
As for the latest attack from DeSantis, Newsom has yet to respond.
Copyright 2023, RepublicanPress.org