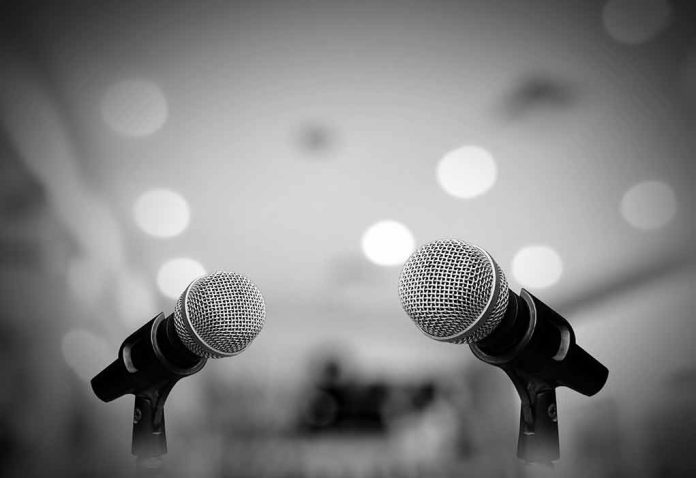 (RepublicanPress.org) – While the word battle between Florida Governor Ron DeSantis (R) and California Governor Gavin Newsom (D) is nothing new, jabs between the two seem to have heated up recently. The Republican presidential candidate has been continuing his crusade against what he refers to as "woke ideology," and the Democratic leader has not been shy about opposing that position. Things escalated between the two when DeSantis flew migrants to The Golden State — unannounced. Newsom questioned whether he broke the law, posting a seemingly veiled threat on social media about taking legal action. Now, Americans could see the duo in a debate that would surely be fiery.
Why a Debate?
On August 2, DeSantis sat down for an interview with Fox News Host Sean Hannity. During the discussion, Hannity brought up an offer Newsom recently put on the table — debate me. The host asked the GOP presidential candidate if he would accept Newsom's challenge, to which he answered: "I'm game." The Florida leader seemed enthusiastic about the idea, stating all the governor has to do is tell him "when and where." Hannity said he would host the debate himself.
Continuing, DeSantis talked about the difference between Florida and California, stating Americans have already decided the victor in a debate of sorts between the two states. The governor said people are moving out of California in droves into Florida, which he touted as having the "number one ranked economy" and educational system in the country. Plus, he noted that Florida's crime rate is the lowest it has been in half a century.
DeSantis said a debate would be good for the country so people could see that the future should look more like The Sunshine State and less like California. He even quipped that President Joe Biden could not be the nominee and, instead, it could be Newsom himself, making the debate all the more crucial.
Presidential Polls
Of course, the California governor is not running for president in 2024. In fact, he's been one of Biden's biggest supporters, making it clear very early on that he has no intention of entering the race against the current president.
On the Republican side, DeSantis is struggling to stay competitive for the GOP primary, which is coming up quickly. Ipsos recently released a poll listing DeSantis as trailing former President Donald Trump by 34 points. The survey only had the governor five points ahead of former Vice President Mike Pence. It's unclear how a debate with Newsom will help DeSantis recover from those numbers. Still, the last word from the California governor about the impending debate was for the GOP candidate to either "put up or shut up." The LA Times reported that the debate would take place this fall.
Copyright 2023, RepublicanPress.org