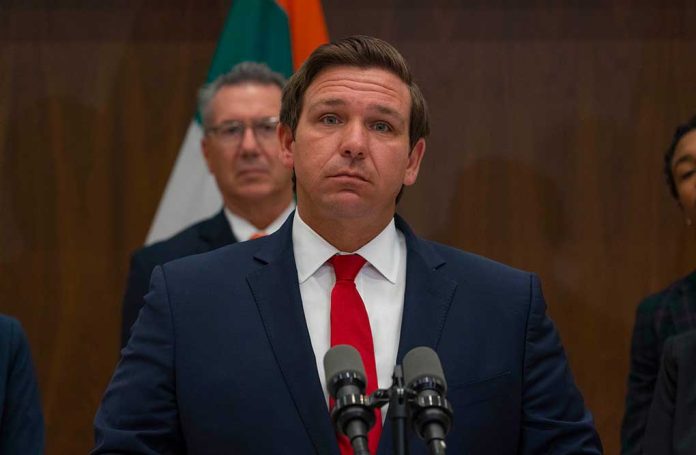 (RepublicanPress.org) – On February 28, Florida Senator Jason Brodeur filed SB 1316 with the state's Upper Chamber, and less than a week later, the measure was referred to committee. The proposal would require money-making bloggers to register with a governmental office within five days of writing about said Florida office. In addition, Brodeur's bill would force those bloggers to file a monthly report or face a hefty fine, sparking controversy about the proposed measure. After the bill was formally introduced in the Florida Senate, Governor Ron DeSantis (R-FL) distanced himself from it.
On March 7, DeSantis formally denounced the piece of legislation. He said SB 1316 is nothing he "ever supported," and he doesn't support it. The governor explained that anybody can write up a bill, and the press can put his picture in an article talking about the legislation, but that doesn't mean he stands behind it. Further, he said he doesn't "control every bill" filed in the state's Congress.
BREAKING: DeSantis disavows pay-to-play blogger bill

"120 of them, and however many in the Senate, they have independent agency to be able to do things. Like, I don't control every single bill." pic.twitter.com/90wB5bk2dO

— Florida's Voice (@FLVoiceNews) March 7, 2023
A few days before DeSantis made his statement, the governor's press secretary, Bryan Griffin, told Breitbart News that more than 3,000 proposed laws are submitted every year in The Sunshine State. He assured the press that DeSantis would look at the bill "in final form" if it passed the legislature.
Fox News reported the Foundation for Individual Rights and Expression (FIRE) and others said the very idea was "unconstitutional" and "un-American." The outrage seemed to prompt the governor to address the issue sooner rather than later to set the record straight about his position. The people that bloggers couldn't speak about without registering include the governor, many members of his administration, and the legislature.
The governor recently said Florida stands on the "front lines" in the fight for "freedom" in America. Curtailing First Amendment rights would fly in the face of that agenda.
Copyright 2023, RepublicanPress.org