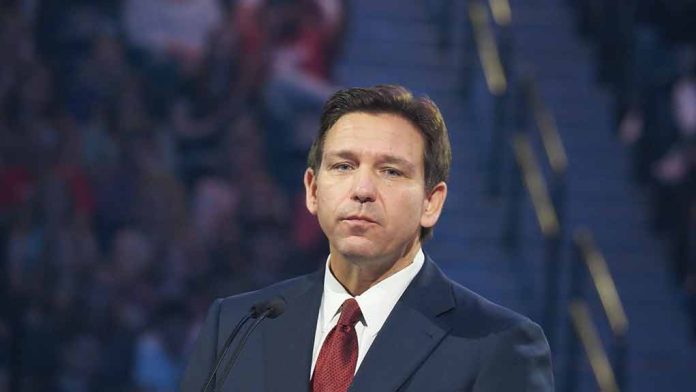 (RepublicanPress.org) – Several candidates are currently running for their party's nomination for president in 2024, especially on the Republican side. The two people at the top of the heap are former President Donald Trump and Florida Governor Ron DeSantis. Lately, however, his campaign has being making some strategy and personnel changes.
What's Happening?
On July 26, the Daily Wire reported that DeSantis fired more than a third of his campaign staff in the interest of reforming his strategy. The news outlet described the Florida governor's efforts as bumpy so far. The DeSantis campaign did a decent job at fundraising, bringing in $20 million between April and June. However, according to POLITICO, campaign manager Generra Peck revealed certain spending efforts have been ineffective, while the campaign had spent too much on planning events. Peck indicated that the campaign would be making some changes to its approach.
DeSantis started with over 90 campaign staff members, but he cut 38 of them. POLITICO reported that 10 of those staffers were in positions recently added to the team. Peck said in a statement that the team is now "ready to hit the ground running" and believes DeSantis will gain headway in the coming month. This came just days after it was revealed that she spoke of coming changes.
There has also been some controversy from within the DeSantis team, as one of his staffers recently used a Nazi symbol in one of the governor's videos, prompting backlash. That staffer was among the group fired from the team.
Current Polls
Although many saw DeSantis as a strong contender for Trump in the not-so-distant past, recent polls show the Florida governor is losing support. RealClearPolitics shows DeSantis carrying an average of 18.4%, only 13 points ahead of fellow GOP candidate Vivek Ramaswamy and a startling 34 points behind Trump. The poll showing DeSantis behind the most was a Harvard Caps Harris Poll from July 19 and July 20, where he only garnered 12% support from the 2,068 voters surveyed.
With his campaign lagging, Peck will need to have a better strategy going forward if DeSantis wants to win the primary. Although DeSantis still has some time before the Republican primary election takes place, he has a great deal of ground to cover before voters start heading to the polls in January.
Copyright 2023, RepublicanPress.org