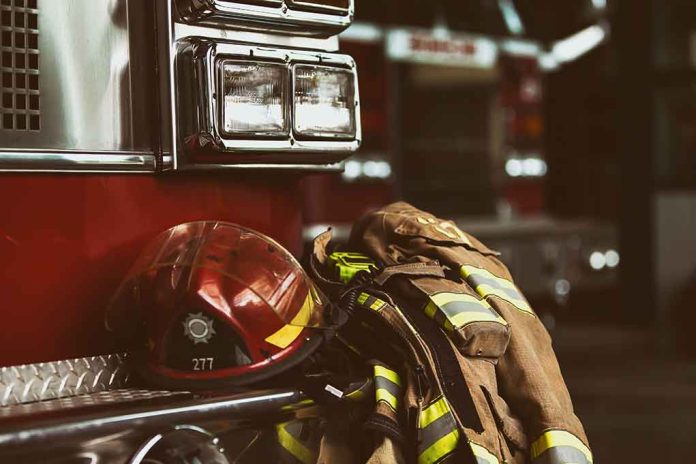 (RepublicanPress.org) – When people don't follow safety rules, the results can affect an entire community. On April 11, Fox 59 reported that a former lawnmower manufacturer site in Richmond, Indiana, was being used as a recycling facility for plastics and other materials. The business reportedly received several "unsafe" citations about its plastic stacking practices. Unfortunately, a large fire broke out in the approximately 175,000-square-foot building this week, sending plumes of black smoke into the air.
The news outlet said Wayne County Emergency Management Agency (EMA) evacuated all residents within a half mile of the incident — over 2,000 people. The EMA warned citizens outside that radius to stay inside, keep their pets indoors, shut all windows and doors, and turn off their air conditioning units. Mayor David Snow described the situation as "serious" and advised Richmond residents to stay out of the area until given the all-clear by authorities.
We have a serious, large-scale fire on NW F Street of Richmond. Many units are on scene. Please avoid this area if possible, as it is dangerous, and allow our first responders room to get this under control.

— Dave Snow (@mayordavesnow) April 11, 2023
According to RawsAlerts, experts were on the scene investigating the incident, and there was a fear that the more than 1,800 propane tanks inside the facility might explode.
🚨#BREAKING: Urgent Evacuation Ordered as Massive Fire Engulfs Plastic Recycling Plant with over 1800 Propane Tanks at Risk

📌#Richmond | #Indiana⁰
Urgent Situation Unfolds as Firefighters and Multiple Agencies Confront Serious Fire at Plastic Recycling Center in Richmond,… pic.twitter.com/tM6jUdrwKQ

— R A W S A L E R T S (@rawsalerts) April 11, 2023
Indiana State Fire Marshall Steve Jones confirmed the smoke was "toxic," stating the fire would likely continue to burn for days. Luckily, Fox 59 reported that officials said the blaze was contained, but another local Fox News outlet stated the resulting threat to the environment and public safety is still unknown. That outlet reported the US EPA and the Department of Environmental Management in Indiana were there to determine any potential fallout. Snow said once officials have information to share — they will.
The New York Post reported there were no injuries, as of yet, besides one firefighter who hurt his ankle from a fall. It's unclear when the EMA will lift the evacuation order. In the meantime, officials set up emergency shelters to house the residents until they can return home.
Copyright 2023, RepublicanPress.org