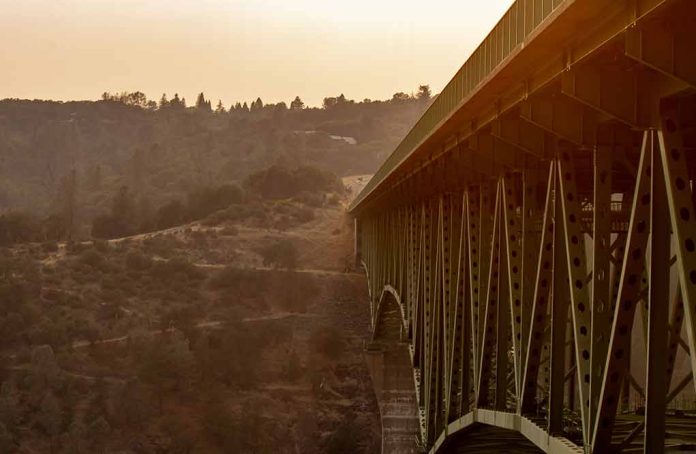 (RepublicanPress.org) – The Foresthill Bridge in Auburn, California, is the fourth tallest in the United States. Originally, the span was part of the Auburn Dam Project in the '70s, but that part of the undertaking was canceled, leaving the seemingly out-of-place 730-foot-tall bridge spanning a valley between two tall hilltops. The location has become a popular tourist attraction. Recently, a couple of teens thought it would be a good idea to pull a stunt on the bridge. As it turns out, the idea didn't end up as they had hoped.
On September 19, the Placer County Sheriff's Office reported it received a call from a distressed 17-year-old, telling the officers his friend, 19, was dangling from a rope from the structure. Dozens of first responders rushed to the site, along with the area's Technical Rescue Team (TRT), to bring the teen to safety. Luckily, the workers rescued the youth and nobody was injured during the incident.
A teenager was rescued from beneath the catwalk of Foresthill Bridge — California's tallest — where he hung suspended from a rope he used while filming a stunt a gone awry, authorities said. https://t.co/KzH2oHqJfm

— CBS News (@CBSNews) September 20, 2023
An investigation conducted by the sheriff's office revealed that the teens' plan was for the 17-year-old to film his older friend swinging from underneath the bridge while standing on the catwalk above. The 19-year-old was hanging about 30 feet down, putting him approximately 700 feet in the air. When the younger cohort realized his friends' equipment failed and he was in peril, he called 911 for help.
When the teams arrived, they lowered a rescuer down to the teen and brought him back up to safety. The harrowing ordeal could've ended very differently for the teen or the rescuer. According to CBS News, Cal Fire Battalion Chief Nolan Hale said this was the first "live rescue in the last 30 years." The effort to safely retrieve the teen took about two hours, and hale related that the boy was "pretty shaken up."
Officers ticketed the youths for trespassing. The sheriff's office reminded others who might have similar ideas that it's unlawful to trespass on the Foresthill Bridge in hopes of deterring other thrill seekers.
Copyright 2023, RepublicanPress.org