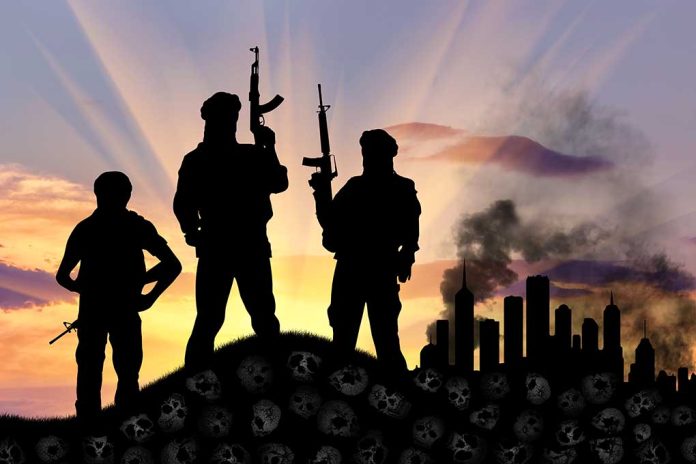 (RepublicanPress.org) – Terrorist organizations continue to exploit social media platforms to spread their message, organize attacks, and recruit new members. Multiple federal agencies, congressional committees, and over organizations readily concede the reality of this expanding threat. However, they seem either unwilling or unable to address the issue head-on — at least until recently.
Madison Cawthorn Takes a Stand
On March 3, Rep. Madison Cawthorne (R-NC) introduced the No Publicity for Terrorists Act of 2022 (HR 6918). House leadership referred the measure to the House Judiciary Committee and the Committee on Financial Services for consideration.
If the measure passes, it will amend Section 2339B of Title 18 of the United State Code, which covers restrictions on groups providing support or materials to designated terrorist groups.
Hawthorn's proposed amendment would require social media platforms to remove any accounts that promote extremist rhetoric and any individuals or groups that appear on a designated terrorist list. HR 6918 would give internet companies 24 hours to remove accounts upon discovering the account's nature or extremist activity. Any company knowingly failing to do so could face a civil fine of up to $50,000.
Pointing to social media companies' deplatforming of then-President Donald Trump in 2021, Hawthorne told The Washington Free Beacon their behavior showed their clear bias. "They [claimed] President Trump [was] a danger to public discourse, but [allowed] terrorist organizations, hate groups, and dictators to remain on their platforms?" he asked rhetorically.
"My legislation holds [social media companies] accountable… and exposes their outrageous double-standard," he added.
The Future of Social Media Sites' Permissive Practices
The Washington Free Beacon reported that Big Tech companies like Facebook and Twitter have faced increased scrutiny from lawmakers for their permissive stance when allowing extremist groups to use their platforms to target the United States and its allies.
Lawmakers on both sides of the aisle have discussed modifying Section 230 of the United States Communications Decency Act of 1996, which provides legal immunity to internet and interactive computed-based companies for the material appearing on their platforms and systems.
However, it appears unlikely that the measure will pass with Democrats controlling the House and Senate. The bill's ability to advance with a Republican majority remains unclear. A similar measure proposed in 2021 by Rep. Andy Barr (R-KY) might fare better. That bill, the No Social Media Accounts for Terrorists or State Sponsors of Terrorism Act of 2021, had 47 co-sponsors compared to Madison's, which only received the backing of one lawmaker: Rep. Bob Good (R-VA).
What do you think of Madison Cawthorn's bill? Should Republicans prioritize the measure after the midterm elections?
Copyright 2022, RepublicanPress.org