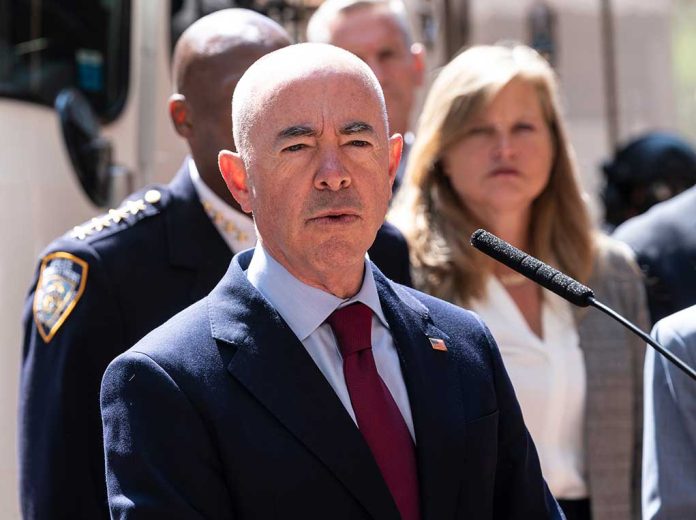 (RepublicanPress.org) – The crisis at the Southern border is a top concern for Republican lawmakers. Many within the party believe Homeland Security Secretary Alejandro Mayorkas shares in the blame for what is happening. Now, a congressman has moved to impeach the Cabinet secretary.
On January 10, Representative Pat Fallon (R-TX) filed articles of impeachment with the House Judiciary Committee against Mayorkas for high crimes and misdemeanors.
I have officially filed Articles of Impeachment on Secretary Alejandro Mayorkas.

— Rep. Pat Fallon (@RepPatFallon) January 10, 2023
The Texas lawmaker alleged the secretary failed to keep his constitutional oath to keep control of the border. Fallon accused the Homeland Security official of putting "national security" at risk, according to a Fox News report. Speaker of the House Kevin McCarthy (R-CA) warned Mayorkas last November that the articles were on the way if he chose not to resign — he didn't and reportedly doesn't intend to.
In November, Ian Sams, a senior aide to President Joe Biden, spoke out in a Tweet against Republicans who were targeting Mayorkas. He claimed McCarthy "staged a political stunt" at the border.
McCarthy went to the border, staged a political stunt devoid of any solutions, and threatened to impeach Sec. Mayorkas.

In April.

He is literally dusting off old news, instead of learning lessons from House Rs' historic midterm underperformance

4/25/22: https://t.co/kaqDSUm7YS

— Ian Sams (@IanSams46) November 22, 2022
The latest filing isn't the first time Republicans attempted to start the impeachment process against Mayorkas. Representative Andy Biggs (R-AZ) introduced a similar measure to the committee in August 2021 with the backing of 32 other GOP members. That filing also accused the secretary of the same offenses, but with Democrats holding the House majority at the time, the filing didn't get past the introduction phase. Republicans now hold the majority, making it easier for Conservatives to follow through and impeach the secretary.
Fox News reported on the day the 118th Congress convened that Fallon intended to follow through on his promise to file. The lawmaker told the outlet the official perjured himself in front of Congress by saying he had control of the Southern border. For that and other reasons, Fallon believes Mayorkas is unfit to serve in his current position.
Copyright 2023, RepublicanPress.org