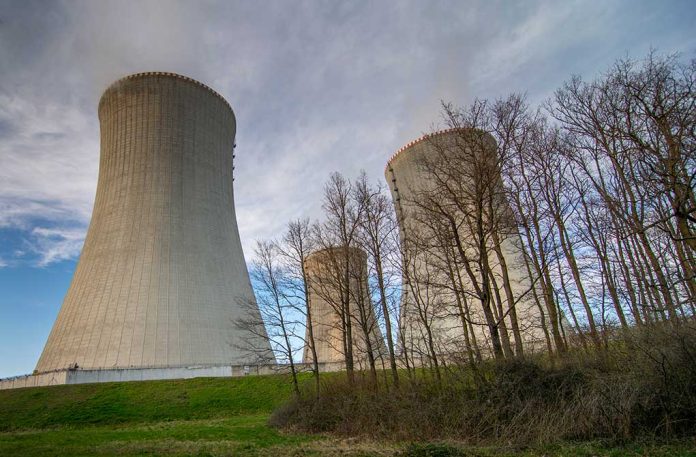 Reports of Shelling Near Nuclear Plant INTENSIFY Fears Internationally
(RepublicanPress.org) – Russian military forces occupied the Zaporizhzhia Nuclear Power Plant (ZNPP) beginning in early March. They recently started launching attacks at Ukrainian positions from the site, prompting anxiety regarding the use of retaliatory field artillery fire. The US State Department called for a demilitarized zone around the location. Likewise, President Joe Biden discussed the necessity of limiting military actions during an August 21 call with European leaders. Nevertheless, reports of shelling near the Ukrainian nuclear plant have continued, sparking increased concerns.
Area around Ukraine's Zaporizhzhya nuclear plant shelled again despite U.S. pleas https://t.co/1UPiMdMvIL

— WZMQ 19 News (@wzmq19) August 22, 2022
On August 22, news media outlets reported that Valentyn Reznichenko, a Ukrainian regional governor, stated that Russian troops launched three attacks on Nikopol, a nearby town, using rockets and motors. According to him, a kindergarten school, bus station, houses, and several private businesses sustained damage during the strike.
Deputy Mayor Natalia Horbolit also spoke out, telling CBS News that locals are frightened. "Everybody is afraid," she added. She also said that roughly half the town's citizens have fled since the worst of the shelling began in July.
The International Atomic Energy Agency (IAEA) has been outspoken about the need for caution. Director-General Rafael Grossi recently addressed the UN Security Council about the situation. He also urged Russian and Ukrainian officials to allow UN officials to perform an onsite risk assessment, warning that "time is of the essence."
The Kremlin has announced UN Inspectors will be allowed into the occupied Zaporizhzhia nuclear plant.

But refusals to demilitarise the area continue. https://t.co/E7t5Nnl1v3

— James Waterhouse (@JamWaterhouse) August 20, 2022
The Kremlin recently announced it would heed that call and allow UN officials to inspect the ZNPP facility. BBC reported the statement followed an August 19 call between President Vladimir Putin and French President Emmanuel Macron.
Copyright 2022, RepublicanPress.org