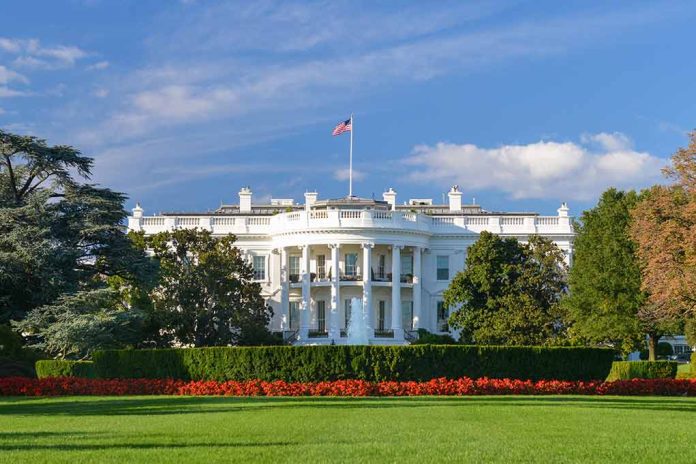 (RepublicanPress.org) – On May 13, 2022, former White House Press Secretary Jen Psaki held her last White House briefing. During that communication, Simon Ateba from Today News Africa repeatedly interrupted the briefing by talking over other reporters, causing Psaki to ask him by name to stop his antics. Still, he was not deterred, receiving several more criticisms of his behavior in the briefing room since. Now, he's at risk of losing his spot in the room altogether.
On July 11, Ateba shared a letter he received from the White House, warning him if he didn't clean up his behavior, he may lose his hard press pass. The missive recalled multiple incidents dating back to December of last year, noting that he received a written warning at the beginning of May but repeated his disruptive behaviors again at the end of June. According to the notice, Ateba has been "shouting over [his] colleagues" and continues to "impede briefing" even after being asked to stop. The reporter was given seven days to respond.
BREAKING: In "Warning Letter", @WhiteHouse Threatens to Silence Simon Ateba, suspend or revoke his hard pass https://t.co/nY6DRWnaMU via @todaynewsafrica pic.twitter.com/008mff4eNV

— Simon Ateba (@simonateba) July 11, 2023
In May, the White House press office announced it was changing the rules about reporter passes that allow journalists to enter the grounds attend briefings and other events. The notice set standards for "all hard pass holders" to act professionally while attending White House events, including respecting colleagues, speakers, and employees.
The letter, shared by several news sources, stated all hard passes would expire at the end of July, and reporters would have to re-apply for uninterrupted access. Ateba posted a tweet about the update, stating that he believed the rule changes were directly targeted at him, claiming he was "merely doing [his] job." The Washington Post noted the reporter thinks the repeated reprimands stem from "racism and discrimination" against him. The outlet stated Ateba probably wouldn't qualify for a hard pass when his expires at the end of the month, given the new rules.
Copyright 2023, RepublicanPress.org