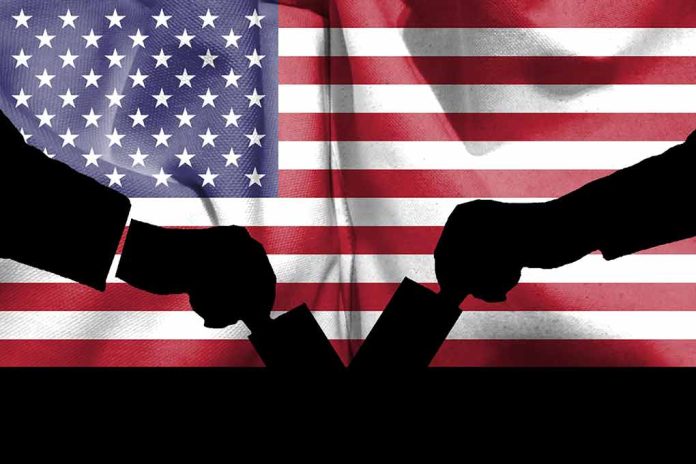 (RepublicanPress.org) – Political watchers long considered Florida Gov. Ron DeSantis (R) the only realistic alternative Republican nominee to former President Donald Trump. Polling organizations indicated that he received 31.3% of the vote (his peak since July 2022) during the latter part of January. His closest competitor at the time, former Vice President Mike Pence, received 6.5%, and Trump sat at a near-low point at 44.3%. However, a new poll shows entrepreneur Vivek Ramaswamy capturing the lead over DeSantis.
On August 21, Rasmussen Reports released its latest polling data on the Republican primary contenders. Released two days before the first GOP debate, the survey showed Trump maintaining a solid lead over the other hopefuls.
Asked if the primary elections were held today, participants indicated they preferred Ramaswamy gaining a one-point lead over DeSantis, a figure well within the survey's sampling error.
Former President Donald Trump: 49%
Businessman Vivek Ramaswamy: 11%
Florida Gov. Ron DeSantis: 10%
Former New Jersey Gov. Chris Christie: 7%
Sen. Tim Scott (R-SC): 4%
Former Vice President Mike Pence: 3%
Former South Carolina Gov. and UN Ambassador Nikki Haley: 3%
Former Arkansas Gov. Asa Hutchinson: 1%
Conservative talk radio host Larry Elder: 1%
Other GOP hopefuls received less than 1% support in the poll, including Gov. Doug Burgum (ND), Miami Mayor Francis Suarez, former Rep. Will Hurd (TX), Michigan businessman and author Perry Johnson, and Texas businessman Ryan Binkley.
Second GOP Primary choice (without Trump)

Ramaswamy 24%
DeSantis 23%
Scott 7%
Christie 7%
Haley 5%
Pence 4%
Elder 2%
Hutchinson 1%
Hurd 1%@Rasmussen_Poll | 818 LV | 08/19-21https://t.co/oQZ9zlQcuM pic.twitter.com/rz1bwCrjGd

— InteractivePolls (@IAPolls2022) August 21, 2023
Similarly, Ramaswamy holds the lead within the margin of error over DeSantis as survey participants' second choice if Trump weren't running for the GOP's nomination. The businessman received 24% of the votes to the Florida governor's 23%. Scott and Christie tied for third place with 7% each.
Rasmussen Report's survey appears to be an outlier at the moment but may reflect DeSantis' continued falling support since January. As of August 22, Real Clear Politics (RCP) polling average showed Trump receiving 55.9% of the vote. DeSantis came in second place with 14.6%, followed by Ramaswamy at 7.1%. According to The Hill, another recent poll from Emerson College showed the two men tied for second place.
Other reports also seem to be taking notice of Ramaswamy, with The New York Times publishing a piece on August 18 that indicated Ramaswamy's popularity is rising with DeSantis's falls. The outlet reported that documents from Axiom Strategies, which is run by a prominent figure in the DeSantis Super PAC, indicate that "Mr. Ramaswamy is viewed as a threat."
Rasmussen Reports and Enforce the Law PAC surveyed more than 800 likely GOP primary voters on August 19 to 21. It showed a margin of sampling error of +/- 3% with a confidence rating of 95%.
Copyright 2023, RepublicanPress.org