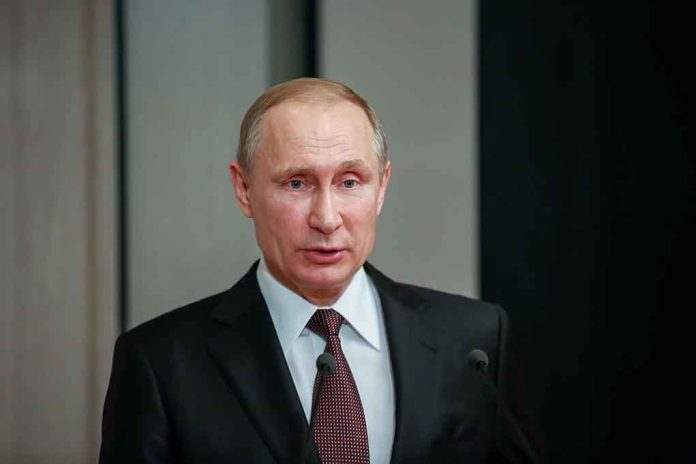 Putin Speaks on Nuclear Weapons During Speech
(RepublicanPress.org) – In recent weeks, the United States and its Western allies have expressed concerns regarding veiled threats that Russia would use nuclear arms during its ongoing military conflict with Ukraine. However, Russian President Vladimir Putin recently spoke out against this interpretation of his words.
On Thursday, October 27, Putin gave a wide-ranging speech at the 19th annual Valdai International Discussion Club meeting. The Moscow-based think tank bills itself as a forum to promote discussion between Russia and the international intellectual and academic elite.
Putin: "It doesn't make sense" for Russia to use nuclear weapons in Ukraine https://t.co/q9dRCcSUVb

— Axios (@axios) October 27, 2022
Putin used the organization to promote his previous claim that Ukraine plans to use a "dirty bomb" within its borders. He also insisted he "never said anything proactively" regarding the possibility of deploying nuclear weapons, pointing out that there is "no need" to take nuclear action.
According to Putin, Western countries were attempting to "apply pressure" on the international community by spreading unfounded rumors that he was threatening the potential use of nuclear weapons. He said the rhetoric was designed to create "additional arguments to convince [Russia's] friends or neutral states" to join them and "confront Russia collectively."
On the flip side, President Joe Biden expressed skepticism about Putin's claim during an interview with the subscription television network NewsNation. Elaborating, Biden said, "If [Putin] has no intention" to use tactical nuclear weapons, "why does he keep talking about it?"
What do you think? Should Western nations be worried that Putin will use nuclear weapons?
Copyright 2022, RepublicanPress.org