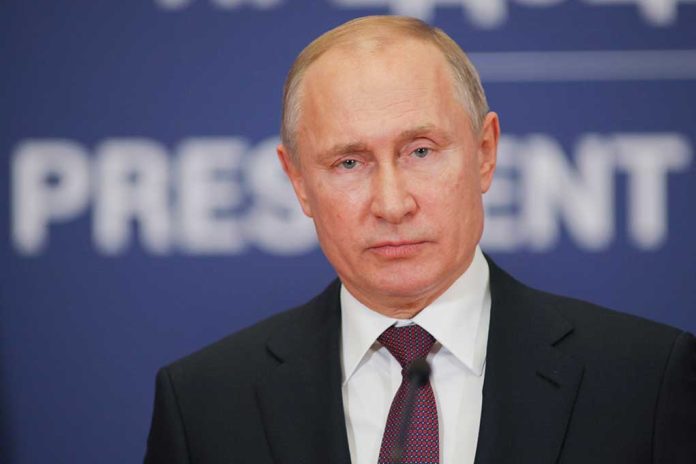 Putin Makes BOLD Claims – Is He Getting Desperate?
(RepublicanPress.org) – On February 24, Russia invaded Ukraine. While Ukraine is the smaller nation, it has managed to hold its own for the last six months. A Pentagon official recently estimated Russia's troop loss (from deaths and injury) hovers just under 80,000, and sanctions have devastated the economy.
In what could be an attempt to raise some cash, Russian President Vladimir Putin announced on August 15 he intends to sell weapons that are far more advanced than any other country to his allies.
Putin's Claims
During his speech to Army organizations in Moscow, the leader specifically mentioned providing advanced weaponry to parts of Asia, Latin America, and Africa, both big and small. He promised to offer new-age combat systems, artillery, small and large arms, drones, tanks, and other war technology that is tactically superior to any other in the world.
Former US DIA Intelligence Officer Rebekah Koffler told Fox News that Putin is trying to unite enemies of the US in order to reach his ultimate goal — defeating America. She said the offerings to various countries are likely the first step to developing military facilities in those regions.
Koffler also added that although Russia's hardware is not better than what the United States produces, the weapons are competitive and not to be dismissed. If Putin can convince the target countries to buy what he is selling, it may help him continue funding his invasion despite the sanctions levied against him.
A Word From the Experts
Lieutenant-General Igor Konashenkov recently bragged about destroying a US-supplied High Mobility Artillery Rocket Systems (HIMARS) in Ukraine with a strike aimed at ammunition centers and command posts. Although the account is unconfirmed and Russia did not claim to shoot the missile out of the air, the declaration indicates Putin has no intention of backing down from the conflict.
Experts say the foreign president and his troops are struggling in the Ukrainian war, with some saying Putin isn't paying or feeding his soldiers enough to keep them going, according to a report by the Institute for the Study of War. Newsweek reported James Stavridis, a former NATO commander, said the Russian leader probably realizes he "made a mistake" invading his neighboring country and is losing personnel and equipment at a rapid rate.
The current concern in the region is the focus on attacking nuclear power plant in Enerhodar, Ukraine, and other areas. The local mayor, Dmytro Orlov, reportedly told AFP the attacks are more frequent each day, which he likens to "nuclear terrorism." With each shelling, the chance of a nuclear disaster increases. Russia denies attacking the plant. At the same time, officials from the Kremlin released a warning about possible nuclear accidents on the European continent.
As for the weaponry sales, there is no word whether or not Putin's allies will take him up on his offer.
Copyright 2022, RepublicanPress.org