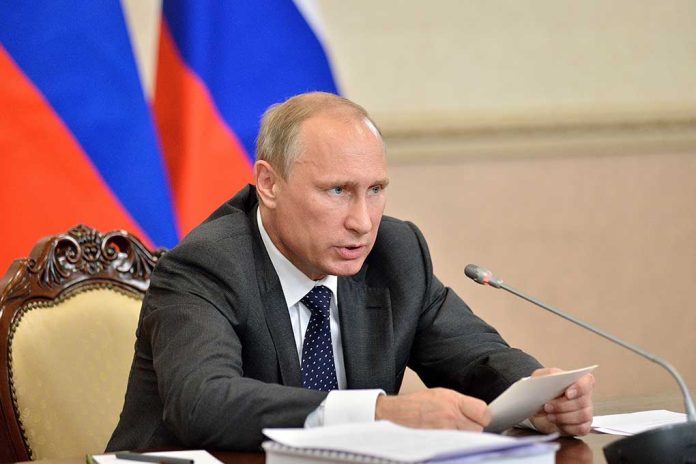 (RepublicanPress.org) – Russian President Vladimir Putin delivered his annual State of the Nation address to the Federal Assembly, state officials, military commanders, and troops on February 21. He gave his speech nearly one year to the day since he ordered a military invasion into neighboring Ukraine, sparking the most significant confrontation with Western allies since the Cold War. In a stunning move, the president announced the suspension of Russia's participation in the New START Treaty.
Reuters reported Putin told attendees that this year's address comes at a "watershed moment" for the country — a time of "cardinal, irreversible changes" in the world that will ultimately decide Russia's fate. Continuing his speech, he explained that Moscow had tried to engage in productive conversations with the West. However, according to him, NATO continues expanding toward Russia's borders and deploying missile defense systems throughout Europe and Asia.
Turning his attention toward the United States, Putin claimed the US has more military abroad than any other nation. Additionally, he said the world has seen America's withdrawal from "fundamental agreements on weapons," including a treaty on short and intermediate-range missiles.
Claiming that the Russian Federation is defending lives while the West chases after power, Putin announced that Russia would suspend its participation in the New START Treaty. He said the Federation wasn't formally withdrawing from the pact yet.
Vladimir Putin said Tuesday that Moscow was suspending its participation in the New START treaty — the last remaining nuclear arms control pact with the U.S. https://t.co/AvdLF5S9CX

— CBS News (@CBSNews) February 21, 2023
The New START Treaty
In April 2010, then-President Barack Obama and Putin's predecessor, Dmitry Medvedev, signed the arms reduction treaty. The agreement went into effect in February 2011 after its ratification by Russian officials.
The New START Treaty placed central verifiable limits on deployed intercontinental-range nuclear weapons, including nuclear warheads on intercontinental missiles, submarine-launched ballistic missiles, and heavy bombers equipped to carry nuclear armaments. Similarly, it limited the number of deployed missiles to 700 and deployed and non-deployed missile launchers to 800.
It remains unclear what impact Russia's decision might have on relations between the US and Russia. Secretary of State Antony Blinken told reporters that Putin's announcement was "deeply unfortunate and irresponsible," adding that administration officials would be "watching carefully to see what Russia actually does." According to reports, Biden also recently called Putin's move a "big mistake."
Copyright 2023, RepublicanPress.org