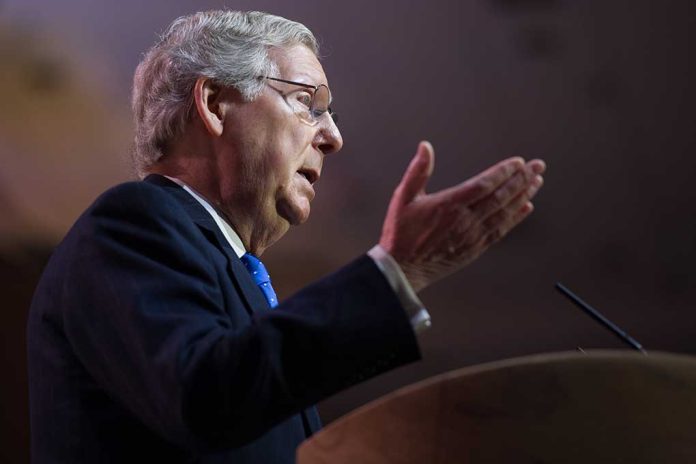 GOP Candidates Criticize McConnell – The Beginning of the End?
(RepublicanPress.org) – Kentuckians elected Senate Minority Leader Mitch McConnell (R-KY) in 1984, and he became majority leader 30 years later, in 2014. If Republicans take control of the Senate in November, it's likely the legislator would like to return to that position, but not everyone supports the move. According to a report from Fox News, three politicians from Missouri recently released statements claiming they want to see "new leadership" for the GOP should they win back a ruling majority during midterms.
Three GOP front-runners in Missouri Senate race vow to oppose McConnell as Majority Leader https://t.co/OpM3T3nE4g via @foxnews

— Chris 🇺🇸 (@Chris_1791) July 29, 2022
Attorney General Eric Schmitt (R-MO) said that the Right's priorities are not the same as they were in the 80s, and McConnell is out of touch. The AG said he would rather support Senators Mike Lee (R-UT) or Ted Cruz (R-TX) as majority head.
Former Missouri Governor Eric Greitens called the politician a "disgusting coward" in a March 25 tweet. The congressional candidate's campaign recently echoed the others, demanding new GOP leadership in the Senate in a statement to Fox News.
I want to tell you directly, Karl Rove and Mitch McConnell. Hear me now. You are disgusting cowards. And we are coming for you. I will no longer allow you to attack me and attack my kids and to destroy this country. pic.twitter.com/27DAL6NJyX

— Eric Greitens (@EricGreitens) March 25, 2022
Representative Vicky Hartzler (R-MO) added to the conversation, saying she's been "watching" the Kentucky lawmaker vote against conservative views. She believes he's too weak to stand up to President Joe Biden and the other Democrats on key issues.
No matter which of the trio earns their place on the November ticket, it seems none of them will support McConnell reclaiming his place to lead the GOP. The state's primary takes place on August 2.
What about you? Do you support Mitch McConnell as the Senate's GOP leader? Do you think other candidates will step up to oppose McConnell?
Copyright 2022, RepublicanPress.org