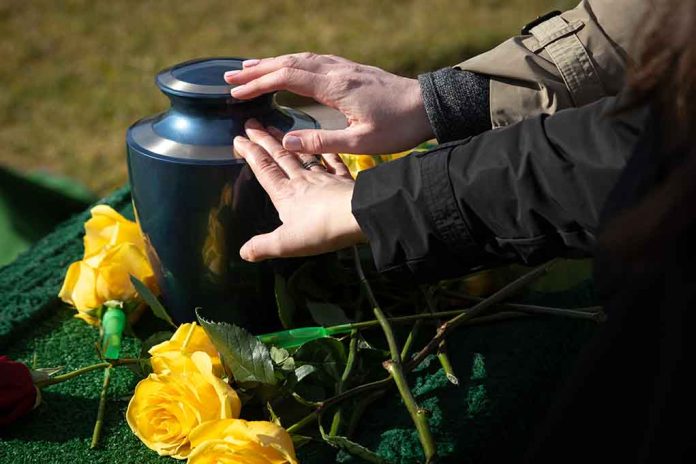 Athlete Suddenly DIES Just Days After Championship
(RepublicanPress.org) – Professional cyclist Rab Wardell grew up riding bicycles early, taking up the practice as a sport as a teenager. His website's biography notes that he "fell in love with the adrenaline rush" and still loves racing, training, and seeking other adventures. Sadly, he suddenly died shortly after winning a championship event last week.
On Wednesday, August 24, Wardell's partner, Olympic medalist Katie Archibald, posted a tweet about his death. She explained that "he went into cardiac arrest" and died Tuesday morning while they were lying in bed. She reported trying to resuscitate him and calling paramedics, who arrived within minutes. But, sadly, she said they were unable to revive him.
I think you've heard that Rab died yesterday morning.

I still don't understand what's happened; if this is real; why he'd be taken now – so healthy and happy.

He went into cardiac arrest while we were lying in bed. I tried and tried, and the paramedics… /1

— Katie Archibald (@_katiearchibald) August 24, 2022
The 37-year-old cyclist died just two days after winning the coveted Scottish MTB XC Championships mountain bike race held in Dumfries and Galloway despite suffering three blowouts. Wardell first hit the headlines in 2020, after setting a new speed record for completing the West Highland Way's 96-mile route in 9 hours, 14 minutes, and 32 seconds.
Tributes quickly poured in from other cyclists and professional groups like the Scottish Cyclists' Union, who posted a tweet and corresponding press release expressing their devastation and sending love and support to Wardell's family, friends, and others in the cycling community.
We'd like to take a moment to remember @RabWardell our friend. Unfortunately Rab left the world last night, quietly and tragically in his sleep.

Last weekend Rab won @ScottishCycling National XC championship, was so proud, as we were.Rab, our quiet yet talented friend 😢💔RIP pic.twitter.com/WHJsx1tf2Z

— pedalnorth.com (@pedalnorth) August 23, 2022
Likewise, independent cycling website Pedal North posted a tweet honoring their "quiet, yet talented friend."
I've now been sent the original photographs, but I wanted to share the thank you on this post for those who left messages on twitter. Every one was a comfort, thank you.

— Katie Archibald (@_katiearchibald) August 26, 2022
Archibald sent out a plea on her Instagram for the originals of four photographs of her and Wardell at the 2020 Six Days in Berlin race. Happily, she reported on her Twitter account that German photographer Wolfgang Stärke provided her with the requested photographs.
Copyright 2022, RepublicanPress.org