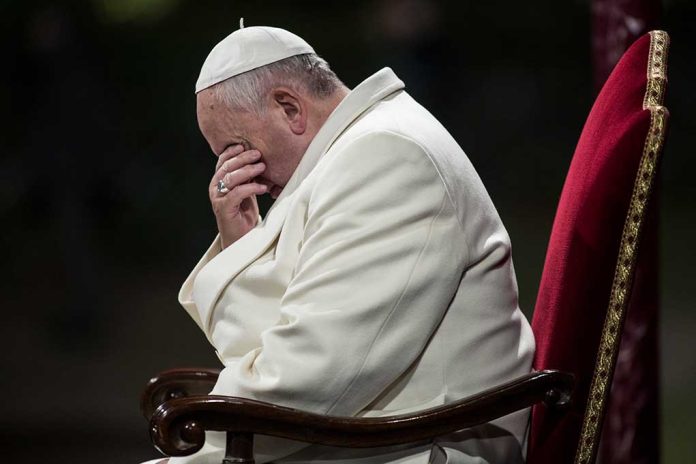 (RepublicanPress.org) – Rumors that Pope Francis might resign due to health concerns have circulated since mid-2021 after the Catholic News Agency published an article detailing talk of a possible resignation after the Pope underwent a minor surgical procedure. Additional questions arose a year later after he canceled a trip to Africa on the advice of doctors treating ongoing knee problems. Most recently, he suffered a setback requiring surgery, but news reports indicate he's recovering and back at work.
On Wednesday, June 7, the Vatican News issued a report announcing the Pope's admittance to Rome's Gemelli Hospital to undergo abdominal wall surgery and a laparotomy [hernia removal]" under general anesthesia." Elaborating, the notice advised the procedure became necessary after a minor hernia caused "recurrent, painful, and worsening" below a prior incision.
About 10 hours later, the Vatican News published an update advising that the Pope was alert after his surgical procedure. Dr. Sergio Alfieri, the Pope's attending surgeon, told reporters he removed an incisional hernia caused by scarring from previous surgeries.
Alfieri advised that he performed the operation without any complications and said the church leader would make a full recovery. He also told reporters that the "Holy Father is well… and has already joked with me."
Then, on Friday, Matteo Bruni, the head of the Holy See Press Office, issued a statement detailing the Pope's ongoing recovery. He said Holy Father's medical team reported that he was improving, and his post-operative status remained within normal parameters.
Continuing, Bruni advised that the Pope started moving about his hospital quarters after breakfast. He said Francis spent most of the morning reading newspapers and conducting official papal business in an armchair.
The Vatican News reported that the Pope would remain hospitalized for five to seven days as a normal precaution. He is expected to return to normal duties after his discharge and resume travel, but the Pope's surgeon said he shouldn't lift heavy objects. An Associated Press report noted that on June 11, Francis walked a little bit and ate lunch with medical staff.
Copyright 2023, RepublicanPress.org