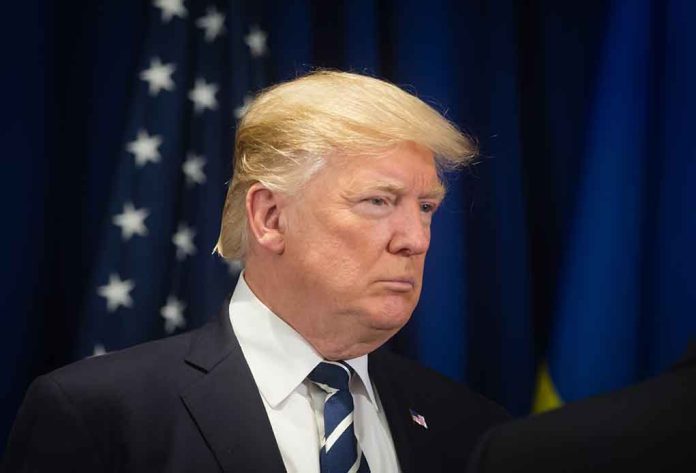 (RepublicanPress.org) – A Manhattan grand jury indicted former President Donald Trump for charges allegedly related to hush money payments made to Stormy Daniels on March 30. When the media initially reported on the indictment, it was under seal. In grand jury cases, the public doesn't learn of the full charges until the arraignment takes place. Still, reactions to the news poured in from across the country.
On the day of the announcement, Trump proclaimed his innocence in a lengthy statement. The former commander-in-chief called the move a "political persecution" and said the indictment was an example of "election interference" since he is running for the White House in 2024.
Statement by Donald J. Trump, 45th President of the United States of America pic.twitter.com/d9NlWQqMbQ

— Team Trump (Text TRUMP to 88022) (@TeamTrump) March 30, 2023
Florida Governor Ron DeSantis (R), who initially said he wouldn't get involved in Trump's affairs, said the move was a "weaponization of the legal system," declaring he would not help New York arrest the former president if he didn't turn himself in.
The weaponization of the legal system to advance a political agenda turns the rule of law on its head.

It is un-American.

The Soros-backed Manhattan District Attorney has consistently bent the law to downgrade felonies and to excuse criminal misconduct. Yet, now he is…

— Ron DeSantis (@GovRonDeSantis) March 30, 2023
Many other Republicans voiced their support of Trump. Representative Marjorie Taylor Greene (R-GA) called for protests in New York against the "unconstitutional witch hunt." She stated on Twitter that she also planned to visit the Big Apple on the day Trump is assumed to surrender himself.
House Speaker Kevin McCarthy (R-CA) also verbally supported the former US leader. He bashed Manhattan District Attorney Alvin Bragg for damaging the United States with the move, although it was a grand jury who brought the charges and not the DA himself.
On the other hand, many Democrats believe the case against Trump should play out. Former House Speaker Nancy Pelosi (D-CA) stated that "no one is above the law" and that she hopes Trump will "peacefully respect" the system that gives him the right to a fair trial.
The Grand Jury has acted upon the facts and the law.

No one is above the law, and everyone has the right to a trial to prove innocence.

Hopefully, the former President will peacefully respect the system, which grants him that right.

— Nancy Pelosi (@SpeakerPelosi) March 31, 2023
Senate Minority Leader Chuck Schumer (D-NY) echoed that, adding in a statement, "Trump is subject to the same laws as every American." He asked critics and supporters alike to let the justice system work.
Copyright 2023, RepublicanPress.org