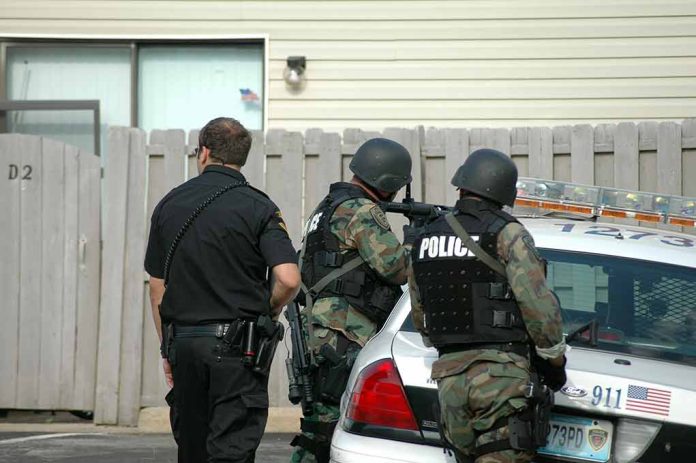 (RepublicanPress.org) – In October 2022, the FBI reported that about 600 murder-suicides happen in the United States annually, leading to between 1,000 and 1,500 total deaths. While that might seem like a low number compared to the number of gun-related fatalities that occur each year in the states, the number is significant because the tragedies involve multiple people — usually families, including children. Recently, one of those horrific incidents happened in Oklahoma.
On July 21, Tulsa World reported that a police officer stopped in front of a home because fireworks caught his eye. A woman trapped inside the garage said a woman had been holding her at gunpoint but retreated with her children inside the house. That information led to a police stand-off that lasted hours before authorities entered to find the woman dead, along with her three children, in an apparent murder-suicide. The kids ranged in age from under a year to 11 years old.
Brandy McCaslin and her three children — an 11-year-old, a 6-year-old and a 10-month-old — were found dead inside the home after an hours-long standoff with police.https://t.co/bES8LsZriU

— TODAY (@TODAYshow) July 23, 2023
The news source said this wasn't the first time they were alerted to problems at the home. Verdigris Police Chief Jack Shackleford said his officers had responded several times to domestic and mental health calls at that particular home. Investigators and police did not elaborate on the issues previously handled at the residence.
However, the Oklahoma State Bureau of Investigation (OSBI) said the woman, 39-year-old Brandy McCaslin, shot her three children and then herself. It was unclear from the reporting whether police could contact the woman before allegedly committing her final act. Police standoffs can often be volatile situations, especially when there are hostages involved.
The neighborhood is understandably in shock. Fox 23 News reported that one woman set up a memorial for the children in from of the home, complete with their names so that people could come by and pay their respects. A candlelight vigil happened over the weekend.
The OSBI is investigating the incident.
Copyright 2023, RepublicanPress.org