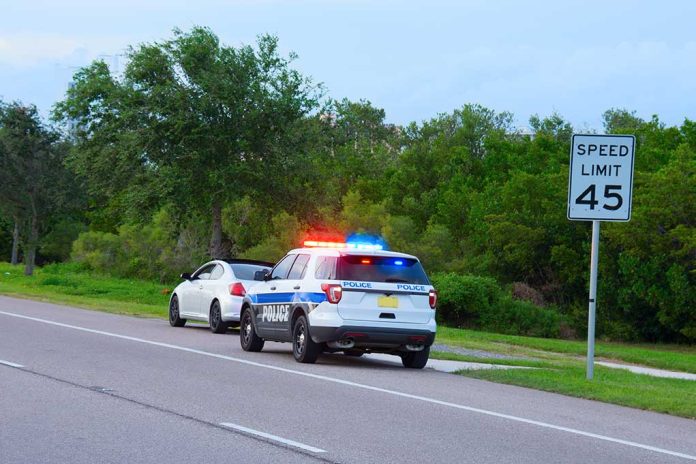 Officer SHOT On Duty – Murder Charges Filed!
(RepublicanPress.org) – Every day, police officers put their lives on the line to protect the citizens of this nation. Traffic stops are especially dangerous for cops because they never quite know what might happen. Sadly, yet another officer has lost their life after pulling someone over.
On July 19, when North Kansas City Officer Daniel Vasquez pulled over a vehicle for expired tags, the driver inside shot the officer and fled the scene. Rescue crews took him to an area hospital, where they pronounced him dead.
A message from @bryantd23: As many of you have heard by now, we lost one of our own today. This morning, NKCPD Officer Daniel Vasquez was killed in the line of duty while performing a car stop in a neighborhood. 1/3 #nkcpolice pic.twitter.com/Rp5DZSpKaY

— North Kansas City (@cityofnkc) July 19, 2022
Authorities quickly issued a Blue Alert for the suspect's car, which led him to surrender to police in Chillicothe, Missouri. They have identified the suspect as Joshua T. Rocha.
Officer Vasquez had just joined the North Kansas City police department in 2021 upon graduating from the Regional Police Academy that same year. He was the first in the unit to die while on duty.
Kansas City Mayor Quinton Lucas sent his condolences to the policeman's family, saying the loss broke his heart. North Kansas City Mayor Bryant DeLong also spoke out after the tragedy during a news conference, saying the community's "hearts are with the officer and his family." Chief Joseph Mabin expressed his condolences in a Facebook post, while Chief Kevin Freeman called the officer a "shining star," according to KSHB.
The local Fraternal Order of Police set up a donation fund to help the victim's family. Meanwhile, Rocha has appeared in court to face first degree murder and armed criminal action charges for the alleged killing.
Copyright 2022, RepublicanPress.org