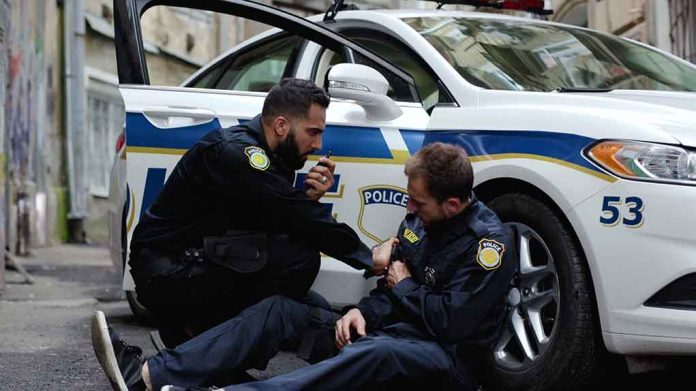 (RepublicanPress.org) – On June 22, in Woodbridge, Virginia, police responded to a call at a 7-Eleven regarding a stolen vehicle. According to the Prince William County Police Department, the owner left their keys inside the 2012 Dodge Journey in the convenience store's parking lot, and someone took the opportunity to drive it away. About an hour later, an officer found the SUV on a sidestreet with the suspect inside.
After the officer approached the vehicle, the driver reportedly took off, made a U-turn, and headed straight toward the policeman. In response, the officer fired his weapon before the Dodge struck him at high speed and subsequently crashed, flipping on its side. The suspect, 18-year-old Valmiki Deo Chandler, fled on foot but was ultimately apprehended and arrested on multiple charges.
*UPDATE: #PWCPD has formally charged an 18-year-old Woodbridge man in connection to the officer-involved shooting which stemmed from a stolen vehicle in the Darbydale Rd area of #Woodbridge. The officer involved sustained a serious injury and is expected to recover. More info; https://t.co/jXCE723CWV pic.twitter.com/RDSURudHWp

— Prince William County Police Department (@PWCPolice) June 23, 2023
The suspect faces criminal counts for attempted murder of a law enforcement officer, felony hit and run, aggravated malicious wounding, felony eluding, and felony grand theft auto. He is currently behind bars without bond.
The officer in question hit his head on the pavement when struck and was transported to the hospital for treatment. The local police department said he suffered a serious head trauma, but is expected to make a full recovery. Since the policeman fired his weapon during the interaction, he will remain on administrative leave while an investigation takes place — as is standard procedure. Police in Prince William County are also conducting a separate criminal into the suspect's alleged actions, starting with the apparent vehicle theft.
The State Corporation Commission in Virginia reported there were nearly 11,500 vehicle thefts in the state in 2021. The organization stated many thefts happen because of opportunity — leaving keys in the ignition or the doors unlocked. The commission suggests always locking car doors, parking in well-lit areas, removing all valuables, and always taking keys out of unoccupied vehicles to lessen the chance of theft.
Copyright 2023, RepublicanPress.org