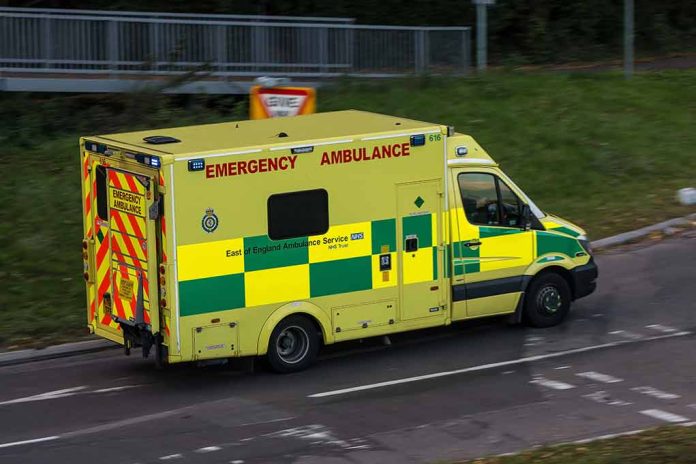 (RepublicanPress.org) – The British monarchy stepped onto the world's stage in all its regal splendor during King Charles III's official coronation ceremony on Saturday, May 6. However, recent reports indicate that the celebration quickly turned to concern for one family after a member of a motorcade for the royal family crashed into a woman, sending her to the hospital in West London.
On May 11, the London Metropolitan Service (MPS) issued a bare-bones statement advising that a police escort motorcycle collided with a woman in her 80s the previous day at approximately 3:21 p.m. local time. According to the note, paramedics transported the critically injured woman to a local hospital.
Sky News provided additional details regarding the incident in an article published on May 14. The media agency identified the injured pensioner as Helen Holland, 81, from Birchanger, Essex. It also reported that she was injured when a motorcycle escorted Sophie, the Duchess of Edinburgh at the time. Sophie is married to King Charles' youngest brother, Prince Edward.
Ms. Holland's family provided a statement to Sky News, confirming that she remained in critical condition in a coma. They expressed their sadness and shock at receiving the news that their beloved relative fell victim to such as "tragic accident.
The family described Holland as a "beautiful, loving… and caring [woman]" who always put the needs of others above her own. They also said they were "praying for a miracle" and asked the public to keep Holland in their "thoughts and prayers too."
Ms Holland's family described her as a "beautiful, loving, kind and caring lady who would always put anyone before herself".https://t.co/vzvvJbpiDj

— Kimberley Leonard (@KimberleyeLeo) May 14, 2023
Buckingham Palace issued a brief statement regarding the accident, conveying the "Duchess' heartfelt thoughts and prayers… [for] the injured lady and her family." The statement also said that Sophie was "grateful" for the emergency workers' quick response and noted that she would "keep abreast of developments" regarding Holland's condition.
The Independent Office for Police Conduct, a non-departmental body addressing law enforcement complaints, is investigating the tragic incident.
Copyright 2023, RepublicanPress.org