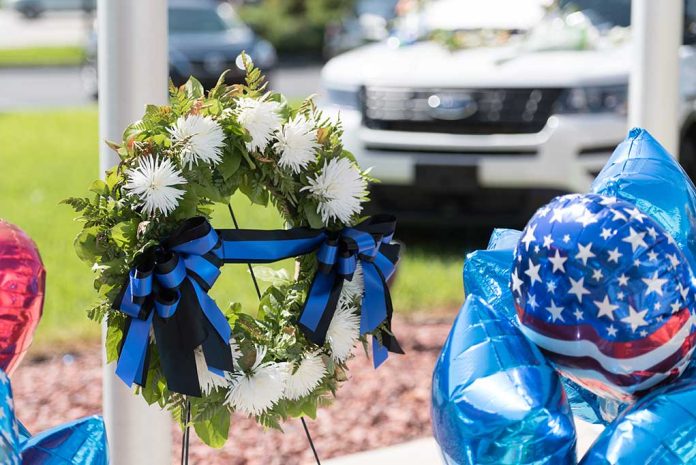 (RepublicanPress.org) – Progressive lawmakers like Rep. Alexandria Ocasio-Cortez (D-NY) have promoted leftist calls to "defund the police" and shutter jails and prisons in the wake of George Floyd's death while in police custody in mid-2020. At the same time, public perception of the police has declined. Months after a woman allegedly defaced the memorial to a late police officer, authorities have finally arrested her.
On Wednesday, February 9, the Illinois State Police (ISP) issued a press release on its Twitter account announcing the arrest of 26-year-old Chicago resident Anna N. Kochakian for allegedly vandalizing a memorial to slain Chicago Police Department Officer Ella French.
The ISP, alongside @Chicago_Police made an arrest for the defacement of a memorial for Fallen CPD Officer, Ella French.

Thank you to the men and women involved in bringing the suspect of this senseless act of vandalism to justice. #ISP #IllinoisStatePolice #CPD pic.twitter.com/bjIURCW7I3

— IllinoisStatePolice (@ILStatePolice) February 9, 2022
On August 19, 2021, an ISP trooper reported that someone had removed, crumpled, and discarded a photograph of Officer French. ISP officers subsequently obtained an arrest warrant for Kochakian from the Cook County State Attorney's Office on February 9.
Later that day, they arrested Kochakian at her residence. The troopers used handcuffs that belonged to Officer Carlos Yanez, French's partner at the time of her tragic murder. Miraculously, Yanez survived two gunshot wounds to his head, but his injuries left him permanently disabled.
.@bigricanman retweet this and make it go viral.

It was tweeted out by @gardencommunist pic.twitter.com/MVwHKQyehS

— 16th & 17th District Chicago Police Scanner (@CPD1617Scanner) August 21, 2021
Adding insult to injury, Kochakian reportedly recorded herself removing and crumpling Officer French's photograph from the memorial. Hopefully, her arrest will bring some comfort to French's family, Officer Yanez, and other members of the nation's law enforcement community.
Copyright 2022, RepublicanPress.org