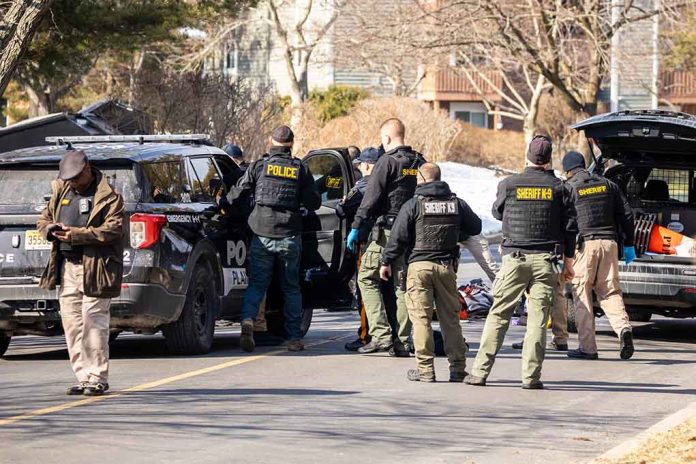 Man Arrested After Making SICK Threats – This Is Disgusting
(RepublicanPress.org) – Texas is no stranger to mass shootings. The Gun Violence Archive reports that as of June 30, the state has seen 29 mass shooting incidents in 2022. However, a recent news report indicates that the Lone Star State may have narrowly avoided another tragic incident involving a firearm.
On Tuesday, June 28, ABC affiliate KSAT-TV reported that San Antonio police officers arrested a 19-year-old subcontractor working at a local Amazon delivery facility and charged him with making a terroristic threat. According to the report, law enforcement officials executed the arrest on Monday after a female coworker reported that Rodolfo Valdivia Aceves made unnerving comments the week before.
San Antonio police arrest a 19-year-old who told coworkers at Amazon facility that he wanted to commit a mass shooting, that Uvalde shooter was "an icon" and who had recently bought an assault rifle. Family members said they were scared he had a gun. https://t.co/xjNOcmiEaE pic.twitter.com/ybaxWHonzl

— Kolten Parker (@KoltenParker) June 28, 2022
The unnamed woman told police officers that workers evacuated the facility the previous Friday after a fire alarm went off in the warehouse. Aceves reportedly told her it would be a good idea for someone to trip a fire alarm so they could carry out a mass shooting while workers exited the building, something he was interested in doing.
The woman also notified police Aceves told her he saw the Uvalde school shooter as an "idol." Additionally, after learning where her children attended school, he told her he "now [knew] what school to go and shoot up."
Police officers spoke with Aceves' father, who informed them his son had suffered from mental illness in the past, which required commitment to a mental health facility on two separate occasions when he was 16. He also told investigators his son had recently purchased a rifle.
Aceves is currently being detained at the Bexar County Jail show pending further action by the court.
Copyright 2022, RepublicanPress.org