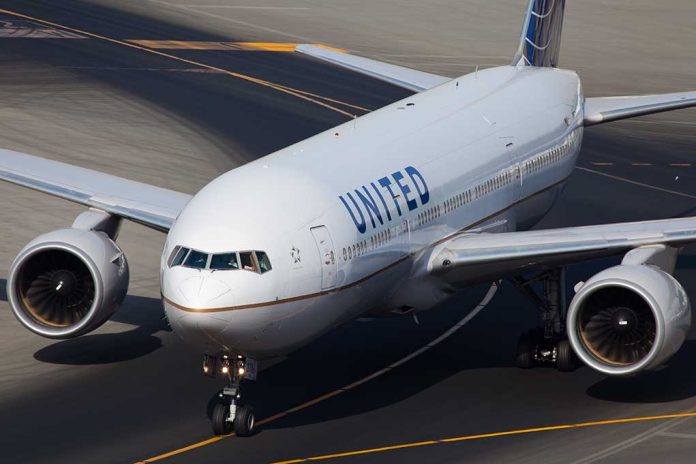 (RepublicanPress.org) – Congress started considering passing aviation legislation after two passenger planes narrowly avoided a crash at New York's JFK Airport in mid-January. Likewise, a plane full of passengers almost hit a cargo jet at a Texas airport during the first week of February. Air crashes aren't the only cause for concern. Passengers were reportedly shaken up recently after their flight took a sudden dive over the ocean shortly after takeoff.
Rod Williams II recounted his experience when a long-range wide-body Boeing 777-200 operated by United Airlines plunged within about 800 feet of the Pacific Ocean shortly after its takeoff from Hawaii's Kahului Airport at approximately 2:49 p.m. local time on December 18, 2022. He told CNN that he and his wife were "praying for a miracle" as the aircraft suddenly descended toward the water.
Couple on United flight that took a nosedive 'were praying for a miracle' https://t.co/gN0tVIkL0m pic.twitter.com/HiRfh8tpEG

— New York Post (@nypost) February 14, 2023
Williams explained that he was sitting at the back of the aircraft with his wife and two children when the plane started gaining altitude at a "concerning rate." He said it felt like he was "climbing to the top of a roller coaster." "There were a number of screams on the plane," he recounted, adding that it was clear to everyone aboard the flight that something wasn't "normal."
Continuing, Williams said the plane suddenly took crested and took a "dramatic" nosedive for several seconds, eliciting renewed screaming by other passengers. Williams recalled trying to stay calm since there were children onboard the flight. Williams remembered looking over at his wife as he gripped his seat and prayed under his breath. He later confirmed that both were "praying for a miracle," thinking that "this could be it."
After plunging for about 10 seconds, the flight suddenly gained altitude and resumed a normal flight pattern, according to Williams. Shortly afterward, someone from the flight crew got on the plane's intercom and reassured everyone that they would be okay.
The airline media company, The Air Current, confirmed that Flight 1722 descended to an altitude of under 775 feet above ocean level. No injuries were reported.
The NTSB has opened an investigation into the Dec. 18 incident in which a United Airlines 777 lost altitude before recovering shortly after departing Kahului, Hawaii, on a flight enroute to San Francisco. A preliminary report is expected in 2-3 weeks.

— NTSB Newsroom (@NTSB_Newsroom) February 14, 2023
The National Transportation Safety Board (NTSB) initially declined to investigate the matter. However, on February 14, the board announced it opened a probe into the incident. The NTSB indicated that it expected to release a report in about 2 to 3 weeks.
Copyright 2023, RepublicanPress.org