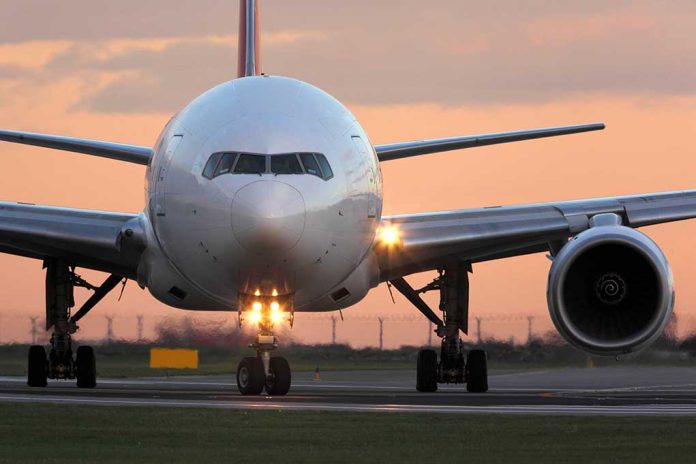 (RepublicanPress.org) – It's been said that lightning never strikes the same place twice. However, that longstanding adage didn't hold true regarding intoxicated passengers on Detroit-bound international flights on Delta Airlines.
On June 2, ABC affiliate WXYZ-TV reported that pilots diverted a commercial airlines flight from Paris, France, to a Canadian island after an unruly passenger broke free from his restraints en route to Detroit. Delta Airlines Flight DL97 is a regularly scheduled service between Paris Charles de Gaulle Airport and Detroit Metropolitan Wayne County Airport.
A representative from Stephenville Dymond Internationa Airport on the Canadian island of Newfoundland confirmed that Flight DL97 had to make an emergency landing after a 34-year-old American man created problems on the flight. He allegedly became violent after partaking in alcohol he brought onboard the flight.
Passengers reported the unidentified American passenger had been causing a disruption next to the airplane's restroom, prompting the flight crew to take the extraordinary step of restraining him. However, the unruly passenger managed to free himself from those restraints, prompting several other passengers to step in and control him until law enforcement officials could board the aircraft.
According to the outlet, one of the passengers, Dena Haddad, said the disruptive man was "being violent and… wouldn't calm down." "It was scary," she declared. Another passenger said that the American passenger was "ready to throw hands," and the entire back of the airplane "was interacting with him" as part of an effort to calm him down.
Delta issued a brief statement after the incident advising that it has "zero tolerance for unruly behavior," particularly when it could compromise the safety of other passengers and the flight crew.
The Royal Canadian Mounted Police (RCMP) and local customs officials placed the man under arrest. He can be heard asking officers why they were arresting him in video footage aired by WXYZ.
A similar incident happened in February, as a flight from Amsterdam to Detroit had to make an emergency landing in Newfoundland's Happy Valley-Goose Bay after a 41-year-old male passenger reportedly assaulted several flight attendants and threatened other crew members.
Copyright 2023, RepublicanPress.org