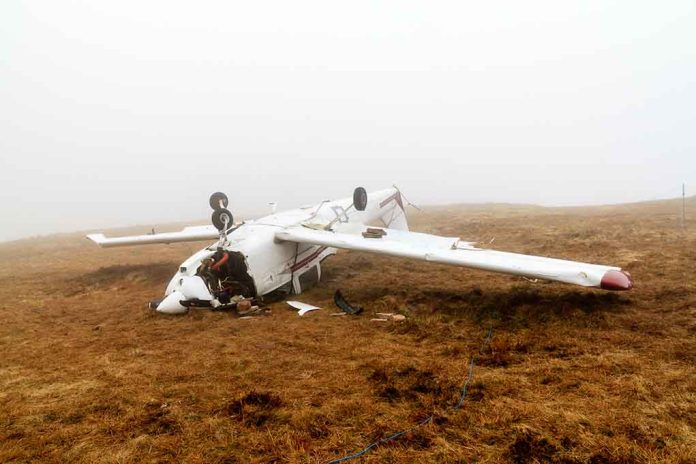 (RepublicanPress.org) – According to statistics from the National Transportation Safety Board (NTSB), airplane accidents are rare. The organization puts the number of fatal accidents between 2001 and 2017 at less than 5% compared to the total flight hours. Still, these tragedies do happen, as evidenced by a recent crash in Lavaca County, Texas.
On the morning of January 17, a small aircraft with five men on board went down just outside the Yoakum Municipal Airport. Sgt. Ruben San Miguel of the Texas Department of Public Safety reported there was only one survivor and that person, Pastor Kennon Vaughan, was in "stable condition." The passengers on board were members of the same church in Germantown — Harvest Church. The event prompted the congregation to gather in prayer.
"In a statement, Harvest Church of Germantown said that members Bill Garner, Steve Tucker, Tyler Patterson and Tyler Springer died in the crash. Another church member, Kennon Vaughan, is in stable condition at a Texas hospital, the church said."https://t.co/aCcdvqa8zI

— Dakarai Turner (@Dakarai_Turner) January 18, 2023
Elder Steve Tucker, Executive Pastor Bill Garner, and church members Tyler Patterson and Tyler Springer lost their lives in the crash. Harvest Church posted several updates for their congregation on social media, including memorial services for the fallen and updates on Pastor Vaughan's condition. From their reports, it seemed the church leader had some internal injuries, but has since had surgeries, and is in recovery.
Tucker, the reported owner of the plane, was not only a leader at Harvest Church but also owned a company called Circle Y Saddles. The business posted a memorial after his passing on social media, saying it was an "honor" to know him. They asked for prayers for his family.
Sergeant Miguel told Action News 5 that it appeared the pilot was trying to land the Piper PA-46-350P aircraft for reasons that remain unclear. The crash is currently under investigation by the NTSB and the Federal Aviation Administration.
NTSB investigating the Jan. 17, crash of a Piper PA-46-350P aircraft near Yoakum, Texas.

— NTSB Newsroom (@NTSB_Newsroom) January 17, 2023
Fox News reported that flightaware.com noted the plane took off from Memphis, Tennessee, early in the morning, but only lasted about three hours in the air. The agenda prompting the men to fly from their state to Texas was not immediately made known to the public.
Copyright 2023, RepublicanPress.org