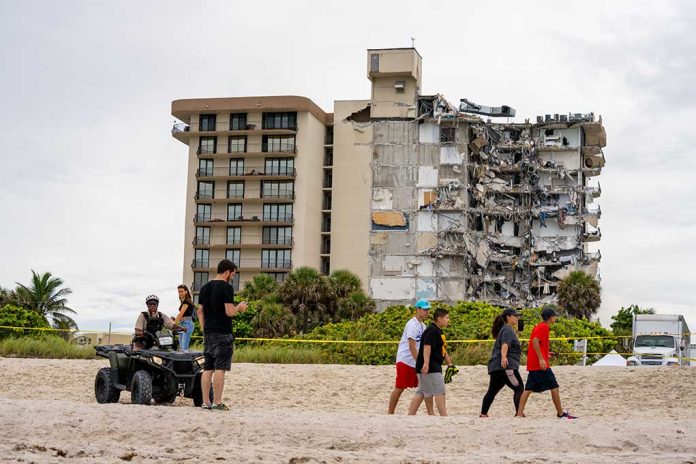 (RepublicanPress.org) – The nation watched in horror as news reports flooded in regarding the collapse of a 12-story condominium in the Northern Miami suburb of Surfside, Florida, in June 2021. The collapse killed 98 people and left hundreds homeless. Local officials recently ordered an evacuation of another condo in a nearby Miami suburb.
On Monday, April 4, North Miami Beach officials announced the immediate evacuation of a 5-story condominium located at 3800 Northeast 168th Street. This action came after the owner of Bayview 60 Homes requested the city's assistance.
A North Miami Beach condominium building was being evacuated after it was deemed to be structurally unsafe, city officials said: https://t.co/0s1kyrUrQ2 via @NBC6

— NBC Nightly News with Lester Holt (@NBCNightlyNews) April 5, 2022
The unnamed owner forwarded a letter detailing a months-long investigation into the property by a structural engineering firm hired to help bring the 1972 building up to code before its upcoming 50-year recertification inspection. Bronislaus P. Taurinski Structural Engineers reported excessive sagging in concrete slabs located on the condo's second and third floors in the letter.
According to the announcement, the building's residents will receive a full refund for April's rent and security deposits. Additionally, the condominium's owner will also compensate tenants up to $150 per night for alternate accommodations through Thursday morning.
City officials plan to allow occupants to return to the building later in the week to retrieve any remaining personal items.
.@CityNMB has created a hotline for residents of the Bayview 60 Homes⁰Apartment Building who may have questions.

Residents may call 305-646-9101, Monday to Friday from 9:00 a.m. to 11:00 p.m. https://t.co/7zohySj0aQ

— Miami-Dade County EM (@MiamiDadeEM) April 5, 2022
The city also set up a hotline at 305-646-9101 to answer any questions people from Bayview 60 Homes may have regarding the evacuation order. They can also schedule a meeting with the City Manager Arthur H. Sorey, III, by emailing [email protected]
Copyright 2022, RepublicanPress.org