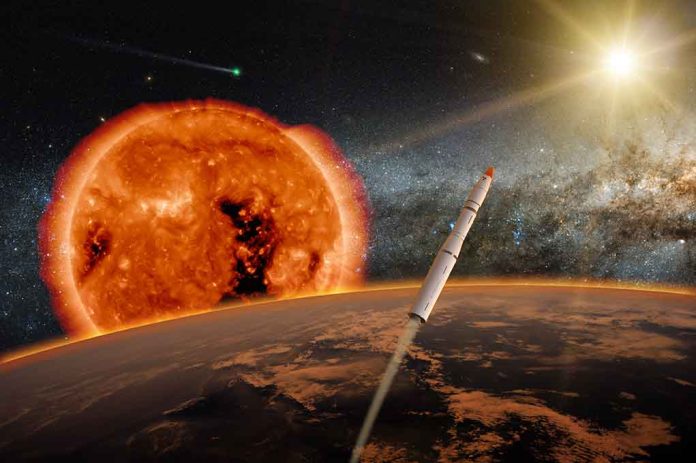 Hypersonic Weapons Are Changing the Battlefield – Here's America's Response
(RepublicanPress.org) – The Pentagon established the Space Development Agency (SDA) in March 2019 to define and develop space-based systems for Earth observation and communications. The directorate's primary function is in the field of research and development, and it recently announced its plan to develop next-generation technology for tracking hypersonic weapons.
On July 18, the Defense Department issued a press release detailing the SDA's award of two contracts to create advanced prototype satellites to track hypersonic missiles. Totaling roughly $1.3 billion, the agreements tasked L3Harris Technologies and Northrop Grumman Space Systems to produce 14 satellites to counter threats from Chinese and Russian efforts to develop hypersonic weapons systems.
SDA is making awards to L3Harris and Northrop Grumman for Tranche 1 missile warning/missile tracking layer. 14 satellites (7 in each of two planes) for each company. Total value "over $1.3 billion."https://t.co/KfVrpcFBjp

— Marcia Smith (@SpcPlcyOnline) July 18, 2022
China reportedly tested a new hypersonic weapon in late 2021. Meanwhile, Russian claimed it used its Kinzhal hypersonic missile for the first time in Ukraine in March 2022.
This is a message to NATO. 😳 https://t.co/bCCwy982uU

— thedereksmart (@dsmart) March 19, 2022
L3Harris and Northrop will each develop a "space segment," which includes two aircraft carrying seven satellites each. The 28 space vehicles will provide network communications services and collect infrared data from the first tranche. They will also supply early "detection, warning, tracking, and identification" of missile threats.
The projected launch for the new satellites is April 2025. They will operate in the National Defense Space Architectures' first tranche tracking layer, a low-earth orbit military constellation for tracking and communication.
Copyright 2022, RepublicanPress.org