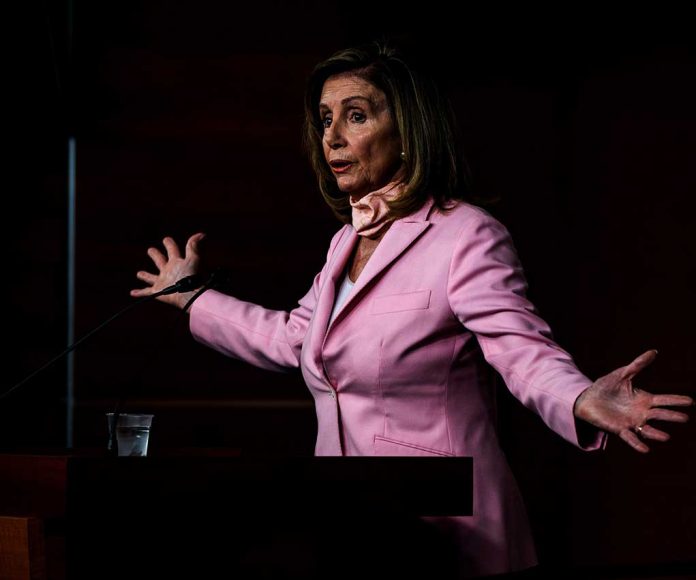 Republicans Snap Back at Pelosi After She Criticizes "Commitment to America" Plan
(RepublicanPress.org) – Congressional Republicans recently unveiled their Commitment to America, the party's plan for America in the wake of Joe Biden's presidency and Democratic control of both congressional chambers. House Speaker Nancy Pelosi (D-CA) quickly issued a press release calling out the Conservatives' "MAGA platform," calling it an "extremist agenda." The Republicans swiftly snapped back at the Speaker's statement.
On September 23, several members of the Republican House leadership spoke to Fox News Digital about Pelosi's statement. House Minority Leader Kevin McCarthy (R-CA) accused her of trying to muddy the waters in the finals weeks before the midterm elections. McCarthy explained the speaker "can't run" on Democratic policies considering the near-total destruction of the country's economy since President Joe Biden assumed office.
Today's rollout is the latest evidence of House Republicans' whole-hearted Commitment to MAGA: going all-in on an extremist agenda designed to greatly diminish Americans' health, freedom and security.

— Nancy Pelosi (@SpeakerPelosi) September 23, 2022
House Minority Whip Steve Scalise (R-LA) echoed that sentiment, adding that Americans say see through Pelosi's ruse. Elaborating, he said the Democrats' agenda regarding energy independence, border security, and the rising fentanyl crisis adequately demonstrates the Left's "extremist" style of governance.
Meanwhile, Fox News reported that House Republican Conference chair Elise Stefanik (R-NY) optimistically predicted America would end Pelosi's reign as House Speaker in November. Could history bear out that prediction?
Former House Speaker Newt Gingrich (R-GA) led the Republicans to an unprecedented victory in the 1994 midterm elections with his party's Contract with America. Republicans picked up 54 seats in the House and 8 in the Senate, crushing Democratic control of Washington.
What do you think? Will Republicans make their way to victory this year, or will the Democrats hold their ground?
Copyright 2022, RepublicanPress.org