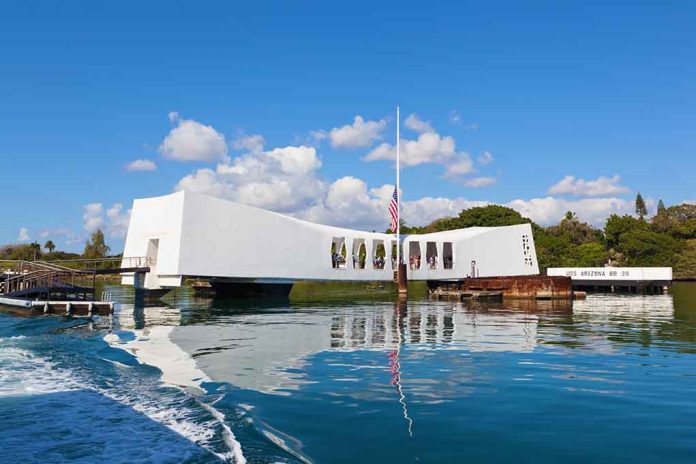 (RepublicanPress.org) – Joseph Eskenazi is the oldest living person to see and live through the Imperial Japanese Navy Air Service's devastating attack on Pearl Harbor on December 7, 1941. The veteran, who now lives a quiet life in Redondo Beach, California, is officially turning 105 on January 30. He traveled to New Orleans by train to visit the National World War II Museum in honor of the upcoming birthday, the attack, and his time in the service.
Joseph Eskenazi, who at 104 years and 11 months old is the oldest living veteran to survive the 1941 attack on Pearl Harbor, holds a photo of himself while celebrating his upcoming 105th birthday at the National World War II Museum in New Orleans Wednesday.

📸: @gherbert, @AP pic.twitter.com/isucUDtwyn

— USA TODAY (@USATODAY) January 12, 2023
Eskenazi hoped to make records of his memories with historians while present. Others who attended ended up celebrating him as well. After posing for pictures with his great-grandchildren and a handful of other vets, he spoke to reporters at the Associated Press.
Reflecting on his nearly 105 years on Earth, Eskenazi said that living to such a ripe old age felt great. But he was careful to note that that he still often thinks about that time in his life and the people who died at Pearl Harbor.
Eskenazi, a young private first class in the Army in 1941, was 23 years old when the Japanese dropped a Type 99 penetrating bomb on the naval base. He reportedly slept in the Schofield Barracks when he awoke to explosions and gunfire.
During the ensuing chaos, higher-ranking servicemembers asked volunteers to clear the runway by driving bulldozers across the field. Eskenazi said his hand shot straight up "unconsciously," even though he knew the mission might result in his death.
Luckily, the veteran not only survived the ordeal but also went on to live a full life afterward. He had children, and later, grandchildren, whom he continues to cherish even at nearly 105. But that doesn't mean Eskenazi didn't suffer any lingering trauma or negative effects in the wake of that fateful day. "That's a moment of sadness that is going to be with me for the rest of my life, " he said, according to The Orange County Register.
Copyright 2023, RepublicanPress.org