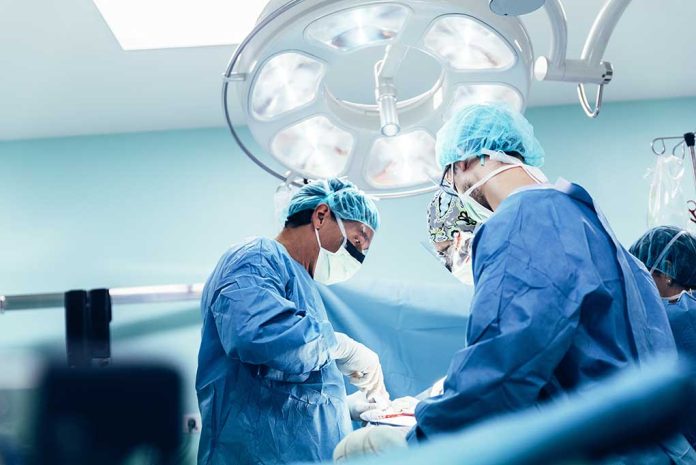 Heart Transplant GOES WRONG – Doctors Reveal Their Error
(RepublicanPress.org) – For the first time ever, doctors in January took a pig heart and transplanted it successfully into a human who was dying of heart disease. Although the initial surgery was successful, the University of Maryland Medical Center (UMMC) confirmed the recipient, David Bennett Sr., died in early March. According to experts, the donor pig had a porcine virus, and the infection may have had a hand in Bennett's eventual death.
The Groundbreaking Operation
Doctor Bartley Griffith performed the heart transplant on 57-year-old Bennett in Maryland. Reports say it was the medical team's last-ditch effort to give him a chance at continued life. Experts genetically modified the pig heart to function inside a human body, and tests showed the surgery had a good chance of success. Although the team first believed the heart was pathogen-free, the doctor noticed a problem about 20 days after Bennett's surgery.
The Deterioration
Dr. Griffith noticed the porcine cytomegalovirus was present while monitoring the patient for signs of rejection, but noted the levels were low and brushed the results off as an error. About a month and a half after the procedure, the heart patient appeared as though he had an infection, and doctor's treated him as such. Although Bennett seemed to improve following the treatment, he quickly declined.
After Bennett's death, medical personnel discovered the problem was not the heart itself and its ability to function within the patient. They believe the latent virus was attacking the transplanted organ.
Animal to Human Organ Transplants
It may seem easy to question whether animal organs belong inside humans at all after watching the swine virus possibly contribute to the recipient's death, but doctors say they learned a lot from this experience. The team checked the donor pig's snout for the virus, but not the deeper tissues where the infection laid dormant.
On the other hand, Joachim Denner of the Institute of Virology at the Free University of Berlin said Bennett's death may not have been due to the virus entirely. He said it was probably a combination of the virus and the fact that the patient was extremely ill.
The University of Maryland School of Medicine spoke to Newsweek, saying that this experience will be used to alter testing procedures and post-surgery treatment to lower the chances that an infection will go undetected.
Do you think the medical team was negligent in not finding the virus that may have led to the patient's death? Should experts do more testing before attempting any further xenotransplantation surgeries?
Copyright 2022, RepublicanPress.org