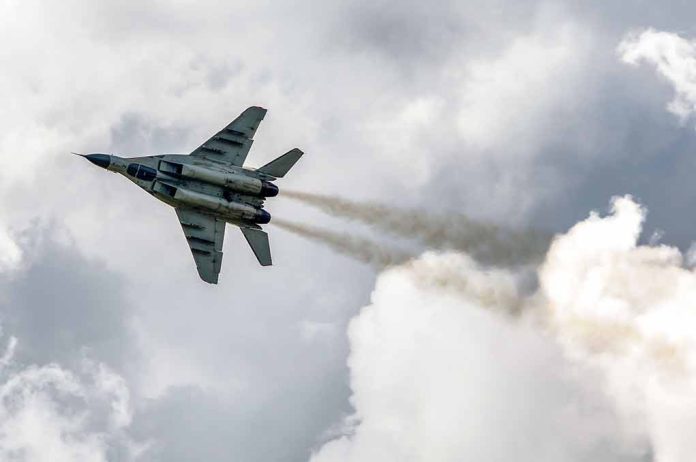 (RepublicanPress.org) – In March, the US European Command released footage of a Russian Su-27 fighter jet clipping and dumping fuel on an MQ-9 Reaper drone flying over the Black Sea. On July 9, ABC News reported that US Central Command said Russian fighter jets "harassed" three more of the same type of unmanned aerial vehicle (UAV) flying over Syria. Now, it seems Russia is targeting manned flights.
Ten days later, POLITICO reported that US officials confirmed a Russian Su-35 fighter jet flew way too close to a United States MC-12W surveillance and reconnaissance aircraft flying over Syria. The encounter prevented the American jet from operating safely. Officials said the antics, if continued, could cause an accident, potentially resulting in death. The anonymous source refused to reveal how close the Russian aircraft came to the US jet. Still, POLITICO reported the maneuver forced the American crew through a bought of turbulence, putting them in harm's way.
Russian fighter flies 'dangerously' close to US surveillance plane as air encounters over Syria escalate https://t.co/0YHPtTzOF5

— LBC (@LBC) July 18, 2023
According to the source, the United States is now thinking about how to deal with the increased and ongoing Russian aggression toward US aircraft in the area. However, the person would not detail what those operations might entail. In any case, the official reportedly said the US military would continue its mission in the region involving surveillance of Islamic State group activity in Syria.
The Iranian-based media outlet Press TV reported that a Russian official claimed the US violated Syrian airspace multiple times, stating Russia is worried about potential accidents with civilian aircraft. The outlet noted that according to the Associated Press, there is a growing effort by Iran, Russia, and Syria to push American personnel and equipment out of the area.
POLITICO reported that the United States refuses to give up any territory it is currently using for anti-ISIS missions. On July 9, US Central Command announced it conducted a strike, killing ISIS leader Usamah al-Muhajir. The statement said the Islamic State remains a threat in the region and worldwide, and CENTCOM intends to halt the group's terrorist activities.
Copyright 2023, RepublicanPress.org