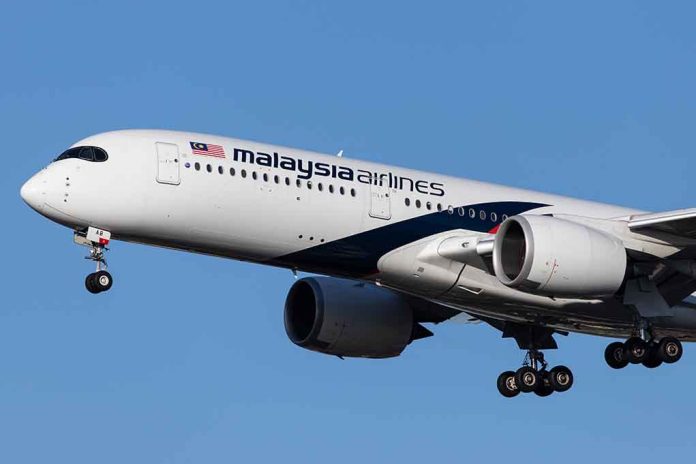 (RepublicanPress.org) – Controversy quickly surrounded the downing of Malaysian Airlines Flight 17, a passenger flight bound for Kuala Lumpur International Airport from Amsterdam's Schiphol Airport on July 17, 2014. Russian-backed forces struck a Boeing wide-body 777-200ER as it flew over eastern Ukraine, about 31 miles from the Russian border. The incident occurred during heavy fighting during the War in Donbas, an armed conflict as part of the long-running Russo-Ukrainian War.
All 283 passengers and 15 crew members were killed in the crash. The Dutch-led joint investigation team and the Dutch Safety Board conducted the initial investigation into the incident. Investigators and researchers analyzed recorded data, debris, and partially reconstructed the MAS17's fuselage. The group eventually concluded that Russian-backed militia shot down the flight using a warhead mounted on a radar-guided surface-to-air missile fired from a self-propelled, medium-range launch system called a Buk, or an SA-11.
Although the warhead and accompanying missile failed to strike the Boeing Triple Seven directly, it scattered shrapnel throughout the fuselage. The pilots perished instantly, and the aircraft's forward section immediately separated from its body. The wings and passenger compartment quickly followed suit and dropped to the ground.
In June 2019, a team of prosecutors operating out of The Hague, a municipality of the Netherlands and home to the International Criminal Court and International Court of Justice, charged three Russians and a Ukrainian for their role in the tragedy. A Dutch court convicted two Russians and a Ukrainian in absentia for the murder of all 298 victims in November 2022. Their whereabouts remain unknown.
A group of Dutch-led prosecutors recently announced they concluded their investigation — at least for now.
Prosecutors Announce Conclusion of Investigation into Malaysia Airlines Flight 17
On February 8, Dutch prosecutor Digna van Boetzelaer led a press conference at The Hague to discuss the team's decision to suspend the further investigation into Malaysia Flight 17's downing. She said there were "strong indications" that Russian President Vladimir Putin approved the transfer of the Buk missile system to Ukrainian separatists. However, as she explained, the international team of investigators could not reach the "high bar" of "conclusive" evidence required for a successful prosecution.
Boetzelaer told attendees that the probe had "reached its limit," adding that investigators had "exhausted" all leads. She also noted that as a head of state, Putin enjoyed "immunity from prosecution in the Netherlands."
Adam Kraag, a representative of the Dutch police, told reporters the team wasn't disappointed that it hit a roadblock in the investigation. According to him, the group "came further than we ever thought" when they began their inquiry nearly a decade ago.
Kraag readily conceded that although the investigation revealed who shot down Malaysia Flight 17, it failed to uncover any motive for the attack.
Copyright 2023, RepublicanPress.org