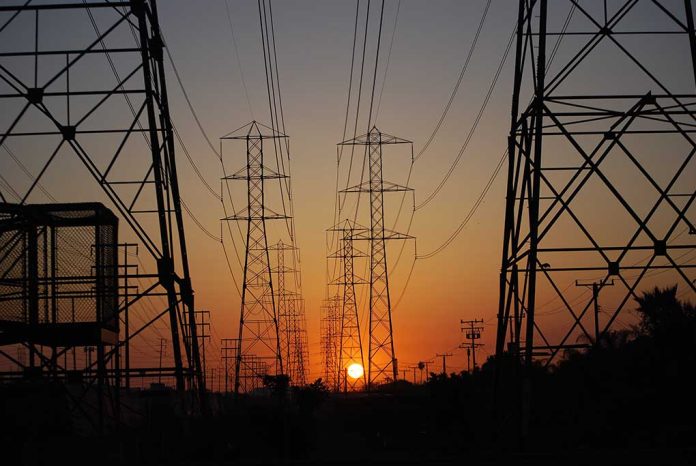 (RepublicanPress.org) – On June 13, the Committee on Energy and Commerce held a hearing in North Carolina concerning America's power grid. While announcing the upcoming event, House Energy and Commerce Committee Chair Cathy Rodgers (R-WA) and Energy, Climate, and Grid Security Subcommittee Chair Jeff Duncan (R-SC) said it was important to ensure the security of the energy grid that powers homes, businesses, governmental buildings, and hospitals all over the country.
The committee heard testimony to help them determine the security and reliability of the system. During Federal Energy Regulatory Commission (FERC) Commissioner Mark Christie's testimony, he warned if the US doesn't stop turning away from fossil fuels before renewable energy is fully in place, there could be "catastrophic consequences" for the American people.
Details of His Claim
Christie said energy has to pour into the power grid "every second of every day" in order to adequately supply continuous power across the US. The commissioner said the problem wasn't that America was adding solar and wind as energy sources but that the government was actively subtracting coal and other non-renewable sources too quickly from the equation. He said keeping them in play during the transition from fossil fuels to green energy will be the difference in whether or not the lights stay on. Christie said that is the "fundamental problem" America is facing when it comes to reliable energy going forward.
The FERC official also made it clear that this assessment wasn't just coming from him but was backed up by several knowledgeable organizations across the United States. One of those sources was the North American Electric Reliability Corporation (NERC), which released a reliability assessment report in May.
Other Viewpoints
The NERC report looked at the four-month period from June through September to project expected energy demands and operational reserves to match. The entity reported there is an elevated risk of insufficient operating reserves in extremely hot weather over the summer across much of the country. The areas in danger of possible blackouts reportedly include part of New England and most areas west of the Mississippi River.
In 2019, the Associated Press reported President Joe Biden promised on the campaign trail that he would "end fossil fuel." Starting on his first day in office, he moved to deliver on that promise. Christie didn't appear to oppose the president's agenda but was concerned the administration was moving too fast on initiatives to go green without ensuring a strong transition to minimize the impact on the country.
Copyright 2023, RepublicanPress.org