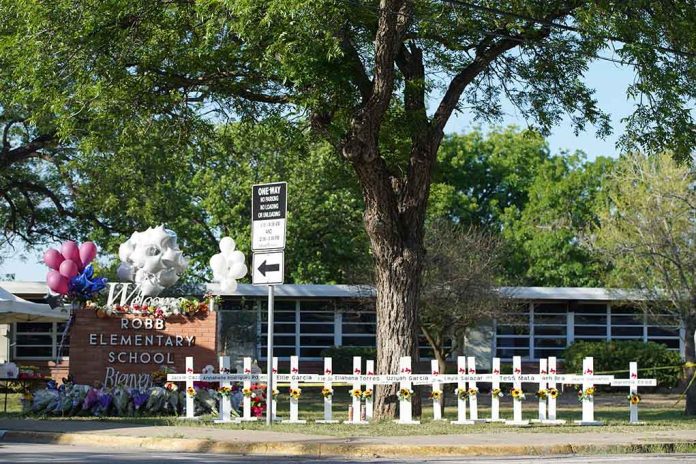 School Shooting AFTERMATH – Are the Students Being Protected?
(RepublicanPress.org) – On May 24, a gunman walked into Robb Elementary School in Uvalde, Texas, and murdered 21 people (19 of them were kids). Upon seeing how the police mishandled the situation that day, a public outcry called for justice for the children and teachers who lost their lives. While the school board fired Police Chief Pete Arredondo on August 23 for his inaction, they could not say the same for other personnel involved. This means officers who responded to the Uvalde shooting may be allowed to return this year.
The officials revealed the board has yet to start an evaluation of the district police officers present on May 24. According to ABC News, when they were asked why, the school district leaders said their main priority had been the review of the department itself, as well as Arredondo.
Three months after the shooting at Robb Elementary School, a promised evaluation of responding school district police officers has not yet started, and those officers will be allowed to continue working within the district this fall, the board announced. https://t.co/mYsKcEdDZk

— ABC News (@ABC) August 30, 2022
The public wasn't happy with that answer and was frustrated that trustees couldn't answer questions about whether officers involved in the shooting response would be coming back. They want the cops suspended until after the board properly evaluates their role at Robb Elementary.
One Uvalde resident, Diana Oveldo-Karau, was quoted by the Texas Tribune criticizing school leaders for expecting parents to be satisfied with the possibility of those officers returning. "Those are the people who failed us," she said.
Despite that the new year is starting, the board said it hasn't even supplied all the better doors and frames to secure the facilities. Not only that, but the group failed to hire enough officers and counselors to protect and help the student body when they return to school, according to ABC News.
What do you think of the decision to let the officers return to their posts?
Copyright 2022, RepublicanPress.org