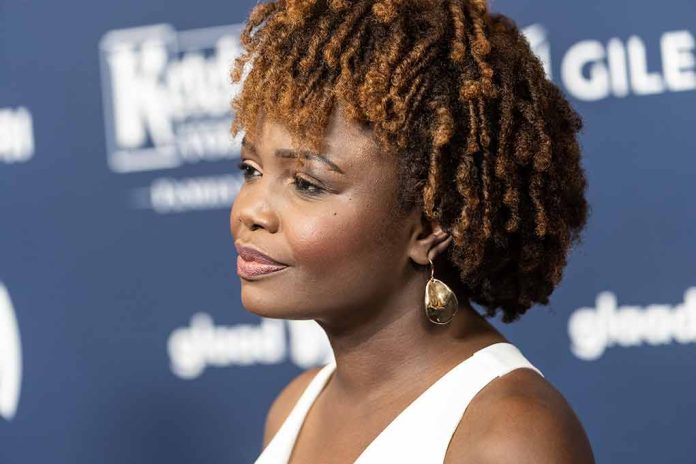 (RepublicanPress.org) – Congress enacted the Hatch Act of 1939 (5 USC §§ 7321–7326) to prohibit executive branch employees from actively engaging in political activity while performing their official duties. Widespread allegations that Democratic Party leaders used federal workers from the Works Progress Administration to influence the 1938 general election in key swing states reportedly prompted the bill's introduction and subsequent passage. Decades later, an employee of the executive branch was found to have violated the act.
On November 2, 2022, Jean-Pierre lashed out at "mega MAGA Republican officials" during her White House Daily Press Briefing on November 2, 2022. She accused them of not believing in the rule of law, undermining public faith in "free and fair elections," and fanning the "flames of political violence."
The following day, Protect the Public's Trust (PPT), a nonpartisan government watchdog group, submitted a complaint to the Office of Special Counsel (OSC), accusing the press secretary of violating the Hatch Act.
On June 12, NBC News published an exclusive detailing a letter sent by Ana Galindo-Marrone, the head of the OCS's Hatch Act Unit, to PPT detailing her office's findings regarding the group's complaint.
Galindo-Marrone said that Jean-Pierre's remarks violated the Hatch Act since the press secretary made that statement while acting in her official capacity "for the purpose of interfering with… the result of an election." Despite that determination, she wrote that the OSC "decided not to pursue disciplinary action." Instead, it sent an official "warning letter" to Jean-Pierre.
Continuing, Galindo-Marrone wrote that the White House counsel's office didn't believe the press secretary's comments were prohibited when she made them. She also stated that it was unclear whether anyone had conveyed the "OCS's contrary analysis regarding the use of 'MAGA Republicans'" to Jean-Pierre before she made those remarks.
White House spokesperson Andrew Bates sent a brief statement to NBC News explaining that the Biden administration takes the Hatch Act's prohibitions "seriously." He also confirmed that administration officials were "reviewing" the OSC's opinion regarding Jean-Pierre's infraction.
Notably, Jean-Pierre has cited the Hatch Act in the past to avoid answering difficult questions.
Copyright 2023, RepublicanPress.org