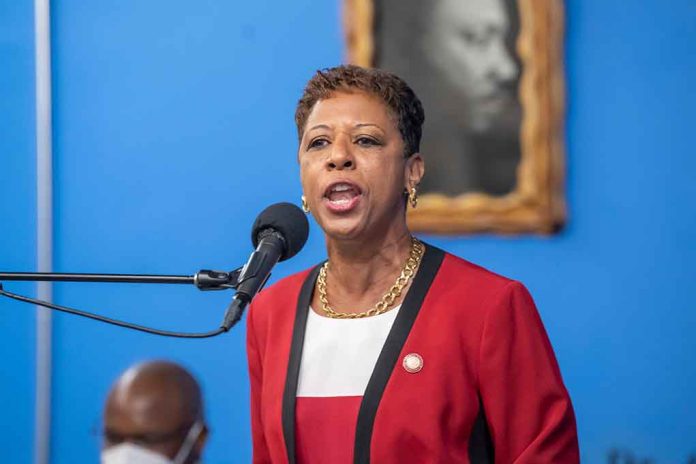 AOC Goes TOO FAR – Democratic Council Speaker Claps Back!
(RepublicanPress.org) – Facts still matter, at least that's the word from New York City Council Speaker Adrienne Adams (D), who recently found herself clashing with members of the board's progressive wing. She spoke up about the conflict after falling victim to a Twitter tirade by none other than Rep. Alexandria Ocasio-Cortez (D-NY).
On Tuesday, June 14, NYC Patch contributor Nick Garber posted a tweet accusing Adams of retaliating against fellow Councilmember Tiffany Cabán (D) by cutting discretionary funding for a local Boys & Girls Club facility. Rep. Ocasio-Cortez responded to the post, echoing the claim and boosting it with the weight of her 13 million followers.
Ok all. We need your help.

To punish a councilmember for objecting to cuts in education & housing, NYC leaders are defunding a local Boys & Girls Club as "punishment."

If you have a few dollars, let's send a message of support these kids & her courage.⤵️https://t.co/b9rgyisbA4 https://t.co/tIDtrO4T2o

— Alexandria Ocasio-Cortez (@AOC) June 14, 2022
Speaker Adams pushed back at Ocasio-Cortez's claim during a Thursday press conference without calling her out by name. "Some federal elected officials forget that [NYC] is not managed through Twitter," she stated, adding city officials "don't have that privilege."
Adams told reporters the new budget measure provides funds for local causes, but councilmembers who didn't support the plan didn't have their names listed as sponsors of the projects. She said it wasn't a "punishment to [their] community" not to have their names listed on a funding package they voted against. She also said the funding loss for the Astoria Boys & Girls club requested by Cabán would be restored, calling the allocation loss an "oversight."
Copyright 2022, RepublicanPress.org